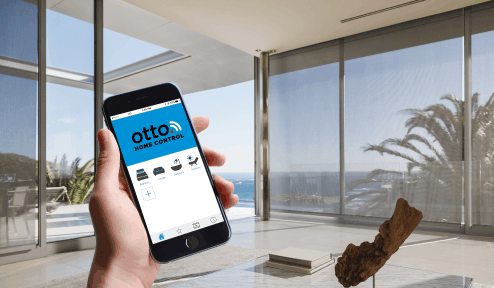 With the ever growing drive to make everything in the home talk to each other, whether it be Alexa or Google Home, we all have a growing list of home items that take advantage of these smart assistances. Well, now that has come to the blind industry, and we are able to add a smart link hub to any motorized shade order that allows the customer to control their shades from a smart phone app, and even Alexa or Google. It will allow the customer to name shades, set up routines, and even set timers.  It's amazing to see what's possible with this new upgrade. The smart link allows the customer to close and open the shades via the app outside of their home network, much like Phillips Hue.  It even shows the user the shade position in the app, so there is no doubt if the shades are down or up when the user is outside of the home.  Sun sensors can also be added to automatically lower the shades with the rising and setting sun.
Motorized shades can be powered 4 ways: hard wired to a wall outlet, battery powered, rechargeable battery pack, or, our strong recommendation is to use solar power.  This option makes any motorized shades a "set it and forget it" kind of product. Why not take advantage of Colorado's 300+ days of sunshine and never worry about having to climb a ladder to change batteries!
The smart link hub can ordered at the same time as the shades or can be added later.