When it comes to decorating large windows, choosing the right window covering is crucial. Not only does it provide shade and privacy, it can also enhance the overall look and feel of the room. One option that works well for large windows are motorized shades or blinds, which can easily cover expansive areas with just a touch of a button. They also offer versatility in terms of light control, allowing you to adjust the amount of natural light that enters the room throughout the day.
Another great option is floor-to-ceiling drapes, which can add a dramatic effect to the room and create an illusion of higher ceilings. Whatever window covering you choose, make sure to consider both style and functionality to get the best result.
Our Best Colorado Springs Window Treatments for Large Windows
1. Panel Track Blinds
If you're looking for a modern and functional window covering, panel track blinds might just be the perfect choice. These sleek and stylish blinds are ideal for large windows, sliding glass doors, and as room dividers. They consist of large vertical panels that slide along a track, making them effortless to operate and perfect for controlling light and privacy. Panel track blinds are available in a range of materials, including light-filtering and blackout fabrics, natural woven woods, and solar screen materials.
As experts in window treatments, we can help you choose the right panel track blinds for your home or business, taking into consideration style, function, durability, and budget. Contact us today to schedule a consultation and start enjoying the many benefits of panel track blinds for your space.
2. Sheer Vertical Blinds
If you're searching for a window treatment that can provide optimal control of light and privacy, then sheer vertical blinds may be just what you need. These blinds are crafted with a combination of sheer and opaque fabrics, which allows for diffused natural light to enter your space while still maintaining your privacy. One of the best things about sheer vertical blinds is their versatility.
Whether you want to create a modern, minimalist look or add a touch of elegance to your home, these window treatments can adapt to your style. Additionally, they're extremely easy to clean and maintain, making them a practical choice for busy homeowners. Trust me, once you add sheer vertical blinds to your windows, your home will never be the same.
3. Plantation Shutters
Plantation shutters are an elegant addition to any home! These shutters offer both style and functionality, providing natural light control while enhancing the aesthetic appeal of a space. Installing plantation shutters can drastically improve the overall value of a property as well. Not only do they look great, but they also offer energy efficiency benefits. During the winter months, these shutters can help keep heat inside the home, while in the summer they can help keep the space cool.
They are also low maintenance and easy to clean, making them a practical choice for any homeowner. Whether you are searching for more privacy in your home or simply want to elevate the overall aesthetic, plantation shutters are a smart and stylish choice.
4. Roller Shades
When it comes to window treatments, roller shades are a popular and practical choice for many homeowners. They offer great versatility in terms of style and functionality, making them a go-to option for anyone looking for a tailored solution to their window covering needs. One of the key benefits of roller shades is their ability to block out light while providing privacy. This makes them ideal for bedrooms or any other room where you need control over the amount of light that enters.
Roller shades are also easy to operate, with many modern options featuring motorized controls or cordless designs. With a wide range of colors and fabrics available, roller shades can work with any decor and provide a sleek, modern look. For those seeking an easy-to-install, low-maintenance option, roller shades are a great choice.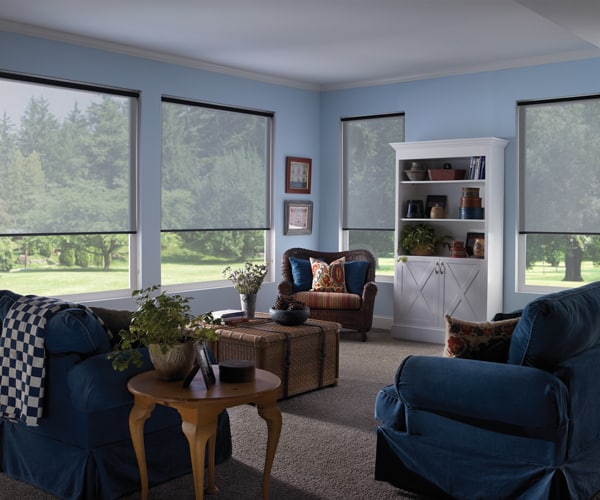 5. Roman Shades
Roman shades are a popular and versatile window treatment that can add a touch of elegance to any room. Made from high-quality fabrics, these shades offer a clean and classic look that can complement any décor. Whether you prefer a bold print or a subtle neutral tone, there is a Roman shade style to suit your taste. With their easy-to-clean design and simple installation process, Roman shades are a smart choice for anyone looking to upgrade their home's style and function.
So why not consider Roman shades for your next home improvement project? Our team of experts is here to help you find the perfect shade to suit your needs and enhance your home's overall style.
6. Horizontal Sheer Shades
When it comes to window treatments, it can be overwhelming to choose the right one, but if you are looking for a stylish and practical option, horizontal sheer shades are a perfect choice. These shades offer the best of both worlds, combining the functionality of blinds and the elegance of curtains. The sheer fabric allows natural light to come in while still providing privacy and reducing glare, creating a warm and inviting atmosphere.
They also come in various styles and colors, making it easy to find the perfect match for your décor. Plus, their easy-to-operate cord system or motorization makes them a convenient choice. So why not upgrade your home with these chic and functional window treatments?
7. Honeycomb Shades
When it comes to window treatments, honeycomb shades offer multiple benefits that make them a top choice for many homeowners. Not only do they offer excellent insulation, but they also come in a variety of colors and styles to complement any décor. Their unique cellular design reduces noise pollution and provides a barrier against harmful UV rays. What's more, they're easy to install and operate, making them a hassle-free solution for anyone looking to upgrade their window treatments.
Whether you're searching for energy-efficient window coverings or simply want to add a touch of style to your home, honeycomb shades are sure to impress. As an expert in the field, we highly recommend these shades to anyone looking to enhance their living space.
How Much Does it Cost to Get Colorado Springs Window Coverings for Large Windows?
When it comes to outfitting your large windows with Colorado Springs window coverings, cost is often a concern. The truth is that prices for window coverings can vary widely depending on the type of material, the style of window covering, and the size of the window itself. However, with the help of an expert, you can find cost-effective solutions that fit your budget and meet your unique needs. From elegant drapes to practical blinds and shades, there are many options available that are both stylish and affordable.
So whether you're looking to upgrade your home's aesthetic or improve energy efficiency, a reputable supplier of window coverings can guide you in making the right choice for your specific project. With their help, you'll soon discover that outfitting your large windows need not be a costly venture.
FAQs
What is the cheapest way to cover a wide window?
When it comes to wide windows, covering them can seem like a daunting task. However, there are a few cost-effective options to consider. One option is to use curtains that hang on a curtain rod. This can be an affordable way to cover a large area, especially if you opt for a simple design or make the curtains yourself. Another option is to use blinds or shades, which can also be cost-effective depending on the material and style chosen.
Additionally, you may want to consider using sheer panels to accompany the curtains or blinds. Sheer panels can provide an extra layer of privacy while allowing natural light to filter through. With a little creativity and research, you can successfully cover your wide window without breaking the bank.
Do you put blinds on big windows?
When it comes to big windows, adding blinds can bring both function and style to your space. With so many options available ranging from roller blinds to roman shades, it can seem overwhelming to choose the best option for your window size and style preferences. However, keep in mind that blinds can offer a level of privacy while also controlling the amount of sunlight that enters your room.
Plus, they can add an extra layer of insulation to your windows, helping to regulate the temperature inside your home. Ultimately, blinds can provide a finishing touch to your windows while also serving a practical purpose, so it's worth considering them for your big windows.
What looks best on large windows?
Large windows are a stunning feature in any home or office space, offering breathtaking panoramic views and providing an abundance of natural light. However, they can also present a challenge when it comes to finding the perfect window treatments. Fortunately, there are a few options that can truly enhance the look of your large windows. One option is to choose floor-length drapes in a luxurious fabric, such as silk or velvet.
Another is to opt for sheer curtains that allow plenty of light to filter through while still providing some privacy. For a more modern look, consider using motorized shades, which can be easily adjusted to control both light and privacy. All of these options offer a stylish and sophisticated way to dress up your large windows and complement any interior design aesthetic.