Whether you're renovating your property or upgrading a new home, finding the Whether you're renovating your property or upgrading a new home, finding the right type of blinds for your lifestyle is essential. Available in an array of colours and tones, the benefits of aluminium blinds are energy savings, extra privacy, and much more.
Why Choose Aluminum Mini Blinds?
Aluminum mini blinds offer an attractive, simple solution for window treatments of all sizes. Not only they are lightweight and easy to install, but their neutral color adapts to any décor and never goes out of style. Aluminum mini blinds come in a range of advanced finishes, including styles resistant to dust buildup and even ultraviolet light. These mini blinds also provide excellent insulation while controlling light levels and reducing outside noise – a great way to create the perfect environment year-round. If you're looking for classic looks with modern performance features, aluminum mini blinds are a smart choice.
Benefits of Choosing Aluminum Blinds
Saves Money
Their reflective nature means you'll save money on your energy bill. When you opt for reflective aluminium blinds, you'll save money on your energy bill. The reflective coating applies to heat gain and loss, which means they'll benefit your HVAC system throughout the year. One way to bolster the energy-saving benefits is to choose thick horizontal blinds. When you adjust them during the daytime, you can let natural light flood in, reducing the need to switch on the lights.
Resistant to Moisture
They resist moisture, making them ideal for bathrooms and kitchens. From moisture through to dust, aluminium can resist all kinds of irritants. If you want to install Venetian blinds in your bathroom or kitchen, aluminium is perfect. Unlike wood, it's not susceptible to the corrosive nature of water, allowing your blinds to last for longer. Similarly, if you live by the coast, your blinds won't fold under the pressure of salt and water. As for those of you who live in urban areas, you'll find that aluminium doesn't cave under the pressure of carbon monoxide, which is particularly prevalent in areas where there is lots of traffic.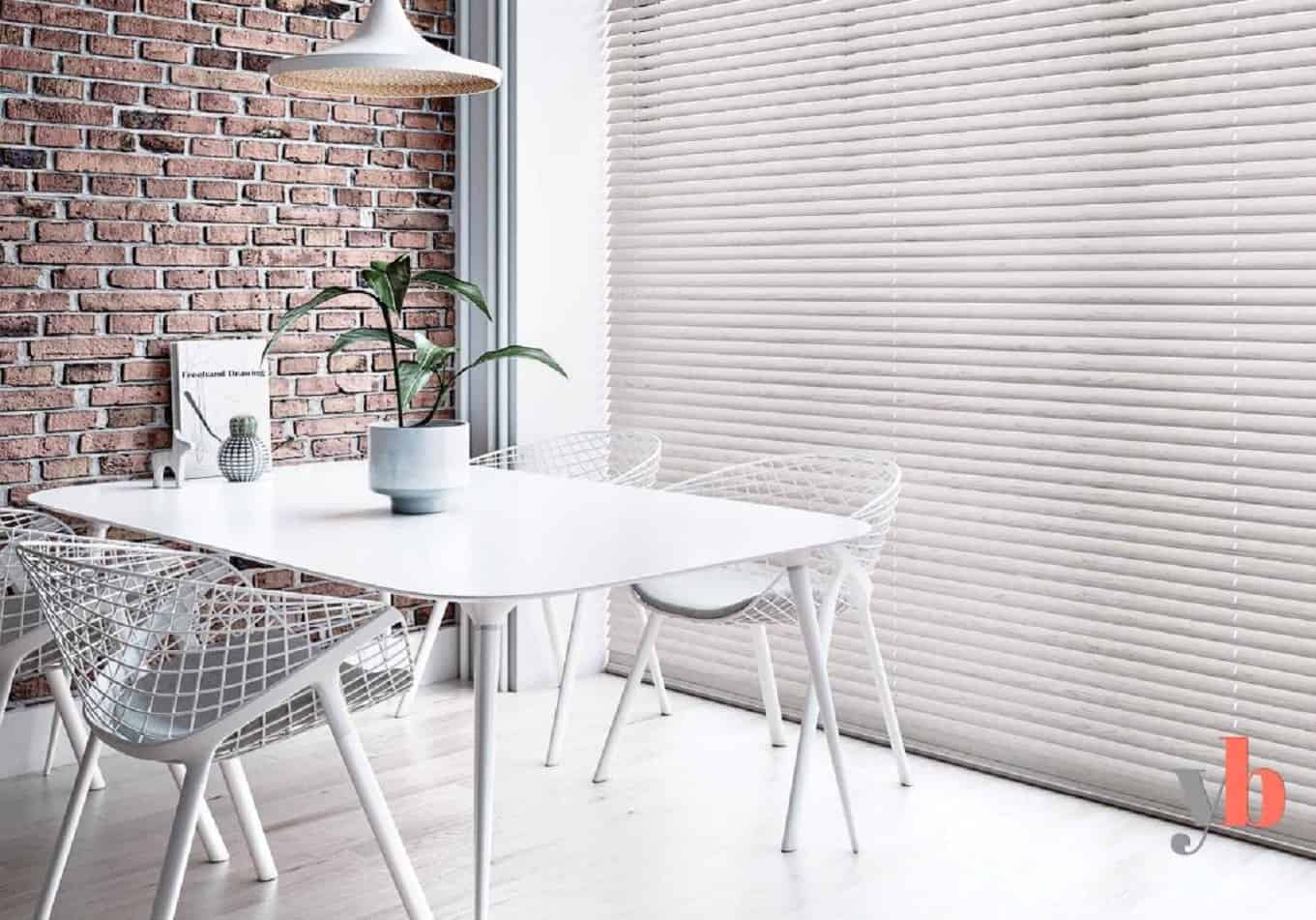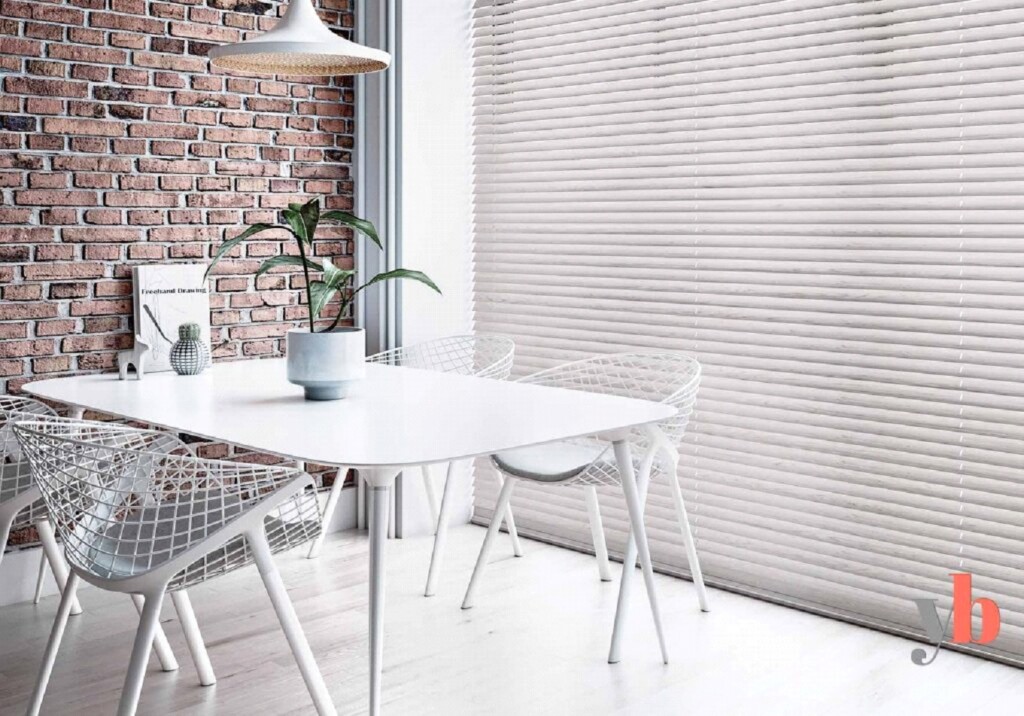 Aluminium Blinds Offer Privacy
Finally, if you want to maintain your privacy with ease, an aluminum blind installation allows you to achieve exactly that. From automated systems to those that respond to remote controls, you'll find that aluminum is the material that responds the best to electronically-controlled shutters. As an additional benefit of aluminium blinds, when you choose thicker vanes, you don't have to worry about bends and kinks that could lead to visible gaps others could peer through.
Venetian blinds are a practical and durable window covering. They are great for light and privacy control and look really stylish! Whether you are redecorating or just want to find more information about this popular window dressing you should find it in this blog post. In previous articles, we wrote about Faux Wood Venetian Blinds. Today, we will concentrate on another popular choice – Aluminum Venetian Blinds.
What Is A Venetian Blind?
Venetian blinds are a window covering made of horizontal slats interconnected by a cord. This blind type gives you excellent control over light and privacy. The blind can be lowered and raised using a cord and tilted with a wand to control the amount of light in the room. Venetian blinds can be made of wood, faux wood or metal. Aluminium slats are very lightweight, whereas wood and faux wood are a bit heavier.
This blind type requires slightly more frequent cleaning, but the process of it is fast and easy. Depending on the material, Venetian blinds might require different cleaning methods. We have a whole separate blog post about cleaning Venetian blinds that you can read in here.
Aluminium Venetian blinds are an affordable yet durable window covering solution. The blind is made of durable material and comes in a variety of colours and styles that will suit different rooms in the house.
Are Aluminium Venetian Blinds Blackout?
Aluminium blinds are a great solution for window covering for any room in the house and will successfully darken your space. The light won't go through aluminium slats; however, it can still leak out through the cord holes and in areas where the horizontal slats join. Therefore, we would not consider them as full blackout blinds. We would still recommend using our Metal Venetian blinds in the bedrooms, as they look great and give you flexible light control. However, if you are sensitive to light in the mornings, then Blackout Roller or Blackout Roman Blind may be a better choice.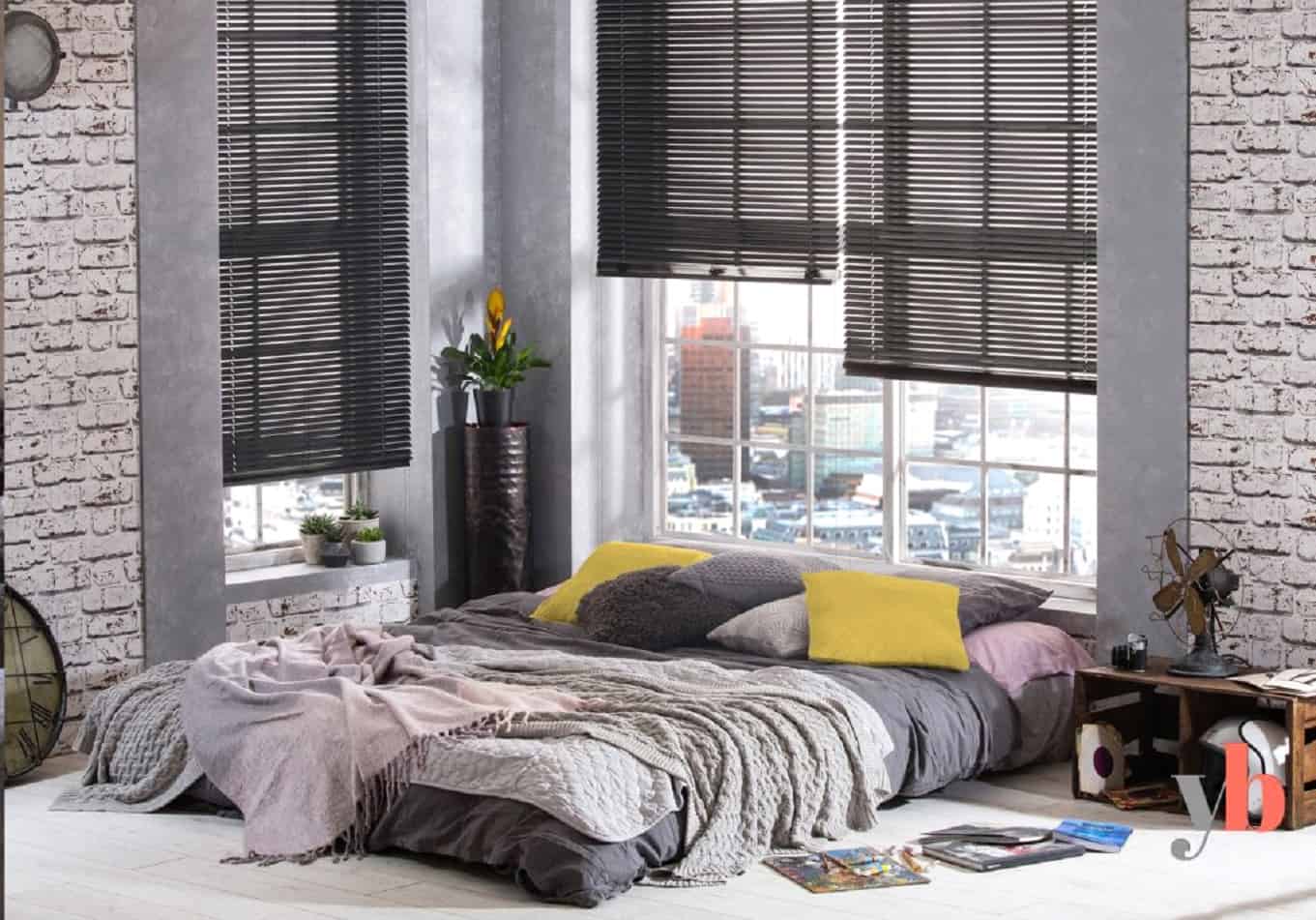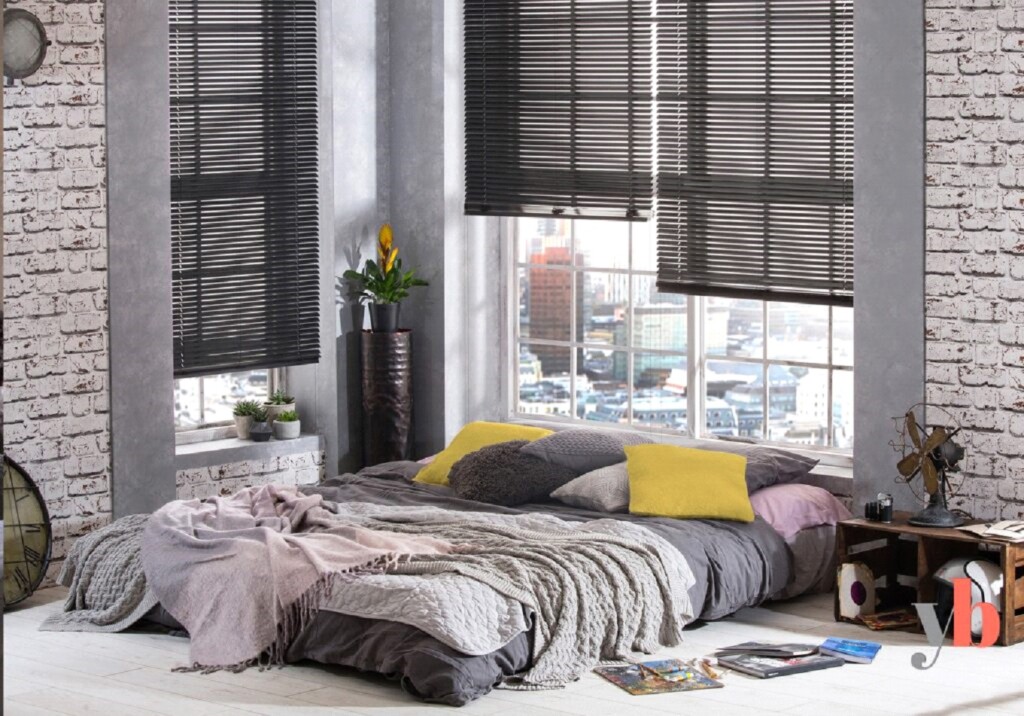 Where Can I Place An Aluminium Venetian Blind?
Colorado Venetian blinds are a versatile window covering solution and can be placed in almost any room of the house. Aluminium blinds are an affordable alternative to wood or faux wood and will look amazing in any modern interiors.
1. Bathroom
This blind type is moisture resistant so it's a practical choice for bathrooms. Aluminium slats won't warp when wet so they are the perfect solution for windows placed near showers or bathtubs. For example, our Morning Glory Venetian blind will add a touch of blue colour to your space and look amazing in plain interiors. Please be aware that if constantly exposed to water or heavy moisture, over time it will degrade.
2. Kitchen
Metal Venetian blinds are also a popular choice for kitchen areas. The aluminium slats are easy to clean with wipes or light detergents so they are perfect for windows near the sink, where there might be any spillage or grease. Metal Venetian blinds are an affordable alternative to wooden blinds. Some of the colours available on our website are in a similar shade as wood so you can enjoy a classic design along with the durability of window covering.
3. Children's Rooms
Our made to measure Venetian blinds are a great choice for children's bedrooms, nurseries and playrooms. These blinds are available in a wide range of vibrant colours that will add a fun accent to your child's space. Although Venetian blinds are not blackout, they are suitable for children's rooms. This blind type will give you excellent privacy and is easy to maintain clean.
What Are The Styles Of Aluminium Venetian Blinds?
Colorado Springs aluminium venetian blinds come in a variety of colours to suit your style. Currently, we only supply 25mm width venetian slats that will add a contemporary touch to your space. The blind can either make a statement with its beautiful colour or blend into your interior. Check out our website for samples of Venetian blinds so you can see each colour in person. Our perforated Venetian blinds are a great solution for sunny offices and living spaces.
These slats have a number of little holes that gently filter the sunlight. The unique structure of this blind creates a perfect space to watch TV or look at the computer screen. At Colorado Springs Custom Blinds & Shutters, you can choose from different styles or perforated blinds, depending on the amount of light that you want to receive.
Our range of thermal venetian blinds is perfect for bedrooms and sunny rooms of the house. The aluminium slats have a special reflective coating on the back that reflects the UV light and stops your room from heating up.
Are Venetian Blinds Child Safe?
At Colorado Springs Custom Blinds & Shutters, we always put child safety first. Our venetian blinds are supplied with a child safety box to make the cords safe so you don't have to worry that your child might get tangled up.
Measuring And Fitting
Made to measure venetian blinds are easy to fit and operate. The blind doesn't require any advanced knowledge or skills to install. Check out our measuring and fitting instructions for venetian blinds and install your new blind with no hassle.
Colorado Springs Custom Blinds & Shutters is a leading US manufacturer of beautiful made-to-measure window blinds, serving customers nationwide. Take a look at our huge selection of blinds styles, materials, and designs.
FAQs
Are aluminum blinds any good?
Aluminum blinds are a great option for any home or business, as they are stylish, easy to maintain and long lasting. Not only do aluminum blinds look modern and sleek, but their strength ensures that you won't have to worry about frequent replacement. In addition, aluminum slats can be easily removed if you choose to clean them with a damp cloth.
Further, these blinds offer three distinct light settings ranging from full open to closed shades without cords, allowing you complete control of the environment in whatever space you choose. All in all, aluminum blinds are an excellent choice with numerous benefits that make them well worth the investment.
What are the disadvantages of aluminium blinds?
Aluminium blinds come with a variety of disadvantages that should be considered before making a purchase. One major downside to aluminium blinds is their lack of insulation, which can lead to increased energy costs in the winter and summer months due to the inability to effectively block out heat or cold. In addition, as they are made from lightweight metal, these types of blinds tend to bend and warp over time, which may present an aesthetic issue if they become uneven or bent.
They also can be hard to maintain with regular dusting being necessary in order to keep them looking good. Furthermore, aluminium blinds often show fingerprints and have limited privacy control due to the hole pattern usually used when designing them. With all these considerations taken into account, homeowners should assess their needs carefully before deciding whether aluminium blinds are the right choice for their windows.
Which is better aluminium or PVC blinds?
It can be a tough decision to make when it comes to choosing between aluminium and PVC blinds. Aluminium blinds tend to be the more affordable option, but PVC blinds often offer added benefits such as better insulation, pest protection and more aesthetic options. On the other hand, aluminium blinds are known for their durability and strength – perfect if you want something that will stand the test of time.
Ultimately, the right choice really depends on your lifestyle and priorities – if you're looking for an economical solution with modern looks and fewer distractions, then PVC blinds might be right for you. However, if you need something sturdy that is easy to maintain and still looks good despite wear and tear, then aluminium could be a better option.