Today, there are lots of different types of modern blinds available, such as Vertical blinds, Venetian blinds, Roller blinds, all fulfilling different purposes around your home. They aren't just used for practical aspects anymore as they used to, they are mainly used for styling aspects now. Modern blinds are available in a wide range of colours, patterns, and textures to suit individual interior designs requirements.
They can make a big difference to a window and transform the overall look and feel of your home as well as offering privacy and blocking unwanted light out of the home. Here at Colorado Springs Custom Blinds & Shutters, we pride ourselves on offering quality products, we work with a range of suppliers to ensure we are offering our customers the best selection possible
Blinds have become exceedingly popular over the last few years, with homeowners opting for easy solutions for their privacy and we understand why. With stylish designs available to suit any type of room, they're Interior low maintenance and the long-term savings they bring have proven a worthwhile investment. However, which do you think is easiest – choosing the right blinds to match your interior or have an easy blinds installation process? When it comes to asking yourself "what are the best blinds?"
There are many contributing factors that will lead to your final decision. What kind of colour blinds will compliment your interior? Rollers or Verticals or Venetians? It comes down to budget, style and personal preference and we can feel your pain. We've prepared a quick, small guide to give you an idea on what blinds work best with particular rooms.
4 Things to Consider when Choosing your Colorado Springs Blinds
1. Insulation needs
Colorado Springs is a beautiful place but the intense heat of the summer can make for uncomfortable living conditions. Blinds insulation is a great way to regulate your indoor temperatures and keep energy costs low. With window blinds, you can keep out the hot summer sun, block out cold winter winds, and even control how much light enters your home. Not only will your windows remain insulated from temperature extremes but you'll also be doing your part to fight global warming. Talk to an expert at one of Colorado Springs' top blinds stores today and start taking advantage of these benefits right away.
2. Window size
When you need to find blinds for your windows that fit perfectly, Colorado Springs Custom Blinds and Shutters is here to help. We offer a wide selection of standard sizes and custom measurements, so no matter the size of your window, you'll get the exact dimensions needed for proper installation and reliable coverage. Our knowledgeable staff can ensure that your selections meet both functional needs and aesthetic preferences. As an added benefit, we guarantee that every blind or shade is measured with accuracy and cut to order. Let us help make your window shopping a breeze!
3. Lighting needs
Colorado Springs blinds lighting needs can be difficult to accommodate, leaving homeowners feeling overwhelmed and uncertain. Luckily, there are expert retailers in the area that specialize in blinds and lighting, helping customers make informed decisions based on their lifestyle. From light-filtering cellular shades to easy-to-use remote control options for your light fixtures, you can be sure that their knowledgeable staff will give you the support needed to find the perfect solution for your home.
With an array of stylish and functional designs, each tailored to meet Colorado Springs' climate challenges and design aesthetic, they truly have something for everyone!
4. Humidity levels
Colorado Springs is known for its semi-arid climate, but that doesn't mean the humidity is always low. In fact, during summer months the humidity can spike to levels similar to more tropical climates! The best way to avoid the humidity in your home or workspace is by installing blinds. Multiple types of blinds are available, including those with blackout fabrics which block UV rays while keeping heat out and air indoors circulating.
Additionally, automated models can be synchronized to a timer or smart device, meaning you can save energy throughout the day without sacrificing comfort. If you're looking for a cost effective way to stay cool and comfortable in Colorado Springs, investing in new blinds is the perfect solution.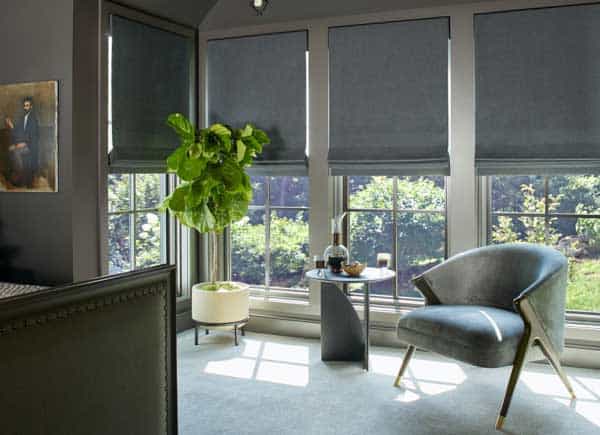 Types of Colorado Springs Window Blinds
Vertical blinds
Vertical blinds are one of the most popular window treatments, due to their classic, timeless look and wide range of colors and materials available. With various widths and lengths, these versatile blinds can help provide shade in sunny rooms or privacy in bedrooms or living rooms. Since vertical blinds stack closely together when opened, they do not take up much space compared to other types of window treatments such as curtains or shutters. Their durable construction also makes them a great choice for high-traffic areas such as offices, nurseries, and playrooms.
Depending on their material, vertical blinds can also be easily cleaned with simply a damp cloth to remove dust or dirt buildup. With so many options available at an affordable price point – there is a perfect style for anyone looking for an easy solution to suit their window décor needs.
Panel blinds
Panel blinds are a popular and practical window covering that can provide a modern fresh feel to any room. This type of blind is composed of multiple fabric panels that are attached to a track or pole at the top. These panels can be opened in a single direction for complete coverage, or can be individually adjusted for various levels of light control and privacy. Panel blinds come in a wide range of colors, designs, textures, and styles, so there's something to fit any décor.
The flexibility they offer makes them an ideal choice for many different applications including both residential and commercial spaces. For those looking to achieve an updated look with functional results, panel blinds are certainly worth considering!
Venetian blinds
Venetian blinds are an incredibly popular window treatment that provide a classic and timeless look to any room. They come in many types, such as metal, timber, and even fabric. The two most popular types of Venetian blinds are plastic or aluminium, both of which offer great light control depending on the slat size used. Metal Venetian blinds are the most durable, though they come at a higher price than their plastic counterparts and can be susceptible to dents if not handled with care.
Timber Venetian blinds offer a more classic look and are generally better suited for colder climates where additional insulation makes them ideal for keeping out drafts. Fabric Venetian blinds are perfect for those looking for something easier on the eyes as they tend to soften the look of the room while still providing excellent light control.
Wood Blinds
Wood blinds are an increasingly popular window covering type due to their classic, timeless look. In addition to being stylish and attractive, they also offer excellent insulation, helping you regulate your home's temperature more easily. Wood blinds come in a variety of stains and finishes, meaning there's sure to be an option that fits the aesthetic you are striving for. They also come in custom sizes so you can find the perfect fit for your windows.
It is recommended that these blinds be dust- wiped periodically to keep them looking like new and are more difficult to install than other types of window treatments. If you're looking for a classy yet functional option, wood blinds are an ideal way to update your space with ease.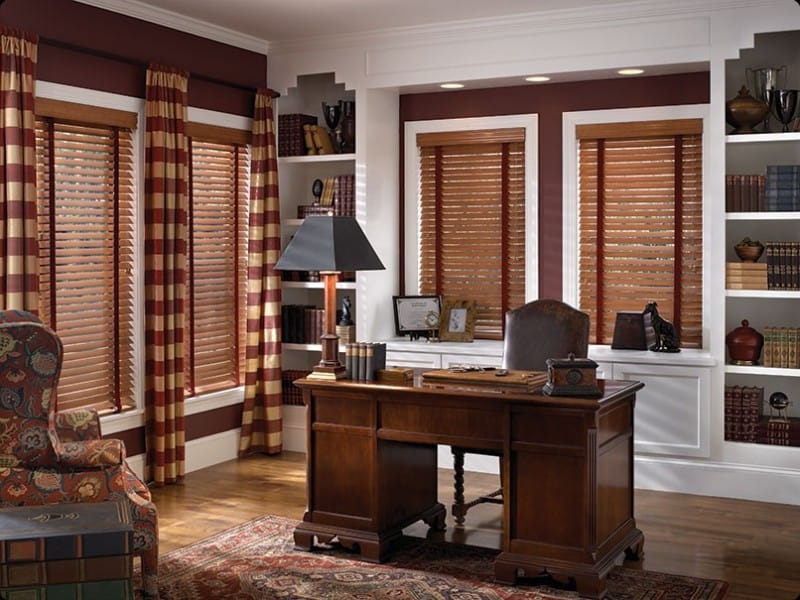 Fabric blinds
Fabric blinds are a great option because they offer an easy way to add style and sophistication to any room. With a wide range of styles, fabrics, and colours available, there's something for every aesthetic. They're also highly functional, offering light control, insulation and privacy – perfect for bedrooms or other rooms you want to keep private. The sheerness of the fabric also helps filter a soft light into the room – ideal for shared living areas.
Fabric blinds come in two main types: roller blinds, which roll up from the bottom upwards; or Roman blinds that fold at different levels as they're raised from the top down. Both will work with most existing window frames and designs and are easy to install and maintain.
Thermal blinds
Thermal blinds are an excellent way to reduce energy consumption in your home. Not only do they keep the heat and sunshine out when you don't want it, they also trap air in between panes so that your home stays warm during colder months. Choosing the right type of thermal blinds is important for managing the temperature and sunlight within your home. Natural materials such as bamboo, linen or wool provide optimal insulation, while blackout materials create extra darkness and ensure complete privacy.
Alternatively, cellular shades come with an insulated foam core for ultimate insulation power! With the variety of thermal blinds available it is easy to find a style that suits your needs, whether you're looking for a hint of light filtering through or total darkness when you need it!
Aluminum blinds
Aluminum Blinds offer an ideal choice for both home and business owners. They are an easily accessible, low-maintenance solution that can fit almost any budget. Due to their strength and durability, Aluminum Blinds are perfect for high-traffic areas such as kid's rooms or kitchens. Their contemporary look also makes them an attractive addition to any window treatment.
With a wide range of sizes, colors and finishes available, you can be sure to find the perfect match for your space. Best of all, they never require dusting or polishing so can remain looking like new for years to come. Investing in Aluminum Blinds is a great way to add style and functional appeal to your home or office without breaking the bank!
Faux wood blinds
Faux wood blinds are an excellent choice for homeowners looking for a budget-friendly window treatment that looks like real wood. Constructed of strong, durable PVC, faux wood blinds are built to last and can withstand extreme temperatures without warping or fading. Plus, they're easy to clean and perfect for high-traffic areas such as kitchens and bathrooms. Whether you're looking to update an old window or give a new one a classic touch, faux wood blinds provide the perfect combination of affordability, style, and functionality.
Bamboo blinds
Bamboo blinds are a popular choice amongst those who want to bring nature-inspired beauty into their home. Not only do they provide a classic, timeless look, but they can also add a unique touch of texture and warmth that cannot be matched by any other type of window coverings. In addition, bamboo is an environmentally friendly material that can be used in many various ways when decorating a space.
Its durability makes it perfect for homes that experience seasonal weather changes as the shutters can easily be taken down if needed. Bamboo blinds are also excellent insulators, keeping cool air inside during summer months and trapping hot air during winter months. The result is energy efficiency and reduced electricity costs. Consider choosing bamboo blinds for your home today – you won't regret it!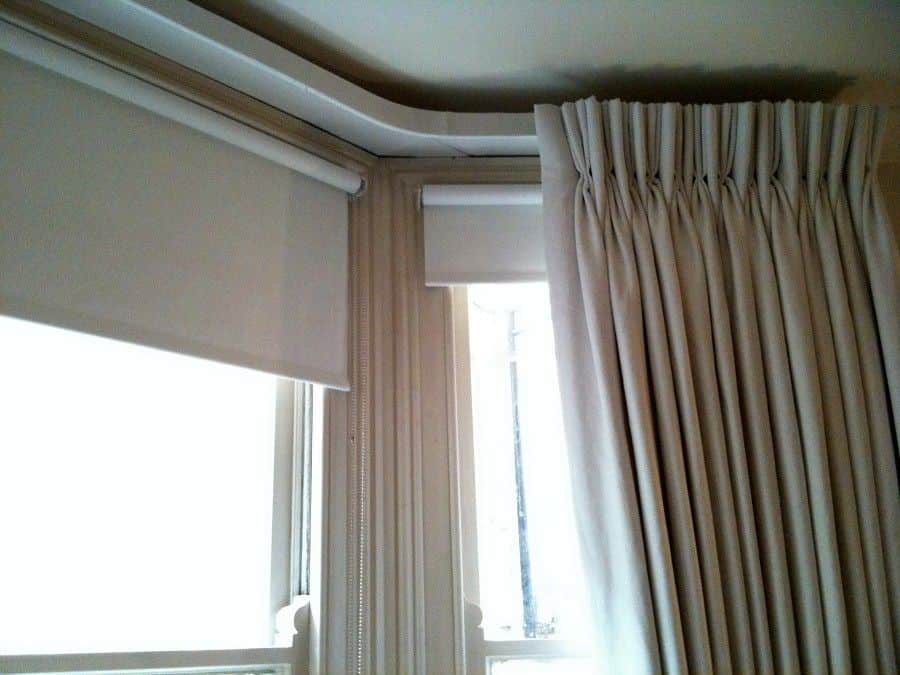 Roller blinds
If you're looking for ultimate control over the light and privacy in your living space, roller blinds are the perfect choice. Roller blinds are a simple and stylish way to attain maximum blackout or diffuse natural light to bring light into your home with ease. Plus, roller blinds come in a range of fabrics, from plain to patterned textiles, that will add contemporary feel to any type of decor. Moreover, their standard fitting means less time between deciding on them and enjoying their use in your home. So if you need reliable convenience plus great looks, then consider choosing roller blinds for your window coverings.
Roman blinds
Roman blinds are a practical, affordable window covering that can add style and sophistication to any home. These blinds use simple cords to lift and fold up the fabric; this gives them a pleasingly neat look. Depending on the material used, they can be tailored to suit both modern and classic styles. Lightweight fabrics such as silk or linen are perfect for brightening up a room without blocking out all of the natural light, while heavier fabrics like velvet or blackout materials will offer a more effective blackout if needed.
Roman blinds also offer an excellent level of privacy when closed, so you can rest assured knowing your home is secure. With their versatility and low maintenance requirements, these stylish ready-made window coverings have plenty to offer in terms of both form and function.
What Do You Need to Consider When Choosing Colorado Springs Blinds?
Accurate Measurements for Blinds Installation
When it comes to measuring for curtains and window blinds, the regulations concerning exactness should not be overlooked. After all, detracting from measurements can mean an ill-fitting product that needs to be replaced – or worse, a product that won't fit at all. That's why you'll want to take great care with taking accurate measurements before investing in any new decorative windows treatments.
Follow the instructed width and length measurements while being precise as you move both interior and exterior surface of your frame's width and height. Add adequate allowances for brackets, recess space if you plan on having the blind mounted within the frame itself or even check room to spare cord length when opting motorized window coverings. Taking these measures into account can help boost confidence in ensuring the best possible fit for your chosen blinds or shades.
Do Your Doors/Windows Open Internally or Externally?
Internally – Many doors open internally, meaning they swing into the house whereas when it comes to windows, it's the complete opposite. If this is the case, there are potential factors that could harm the blinds and the door in the process. It's wise to choose a sample blind for either your windows or doors and see how they fit first, it might be that all your blinds need slight adjustments, so they work more smoothly. Here's a tip – for doors that open internally, they are ideally suited to outside recess.
Externally – For households with doors that open externally, away from the house, there is a range of installation options available as they are more flexible than doors that open internally. It's recommended that external open-door blinds are better suited for inside recess. Now you have some useful knowledge on interior blinds, we hope it helps you on your blind buying and fitting journey!
FAQs
What color do blinds look best in?
Blinds are a great window treatment option for both creating privacy and allowing light into any room. Choosing the best color for blinds is essential, since it will affect the visual impact within each room. Generally speaking, neutral colors such as white, ivory, or grey look best in terms of versatility and versatility. These light shades will fit seamlessly with any type of décor, helping create an even balance that won't take away from your existing artwork or furniture. If you prefer something that is more bold and adventurous opt for a soft pastel shade to give your living space a unique touch!
Should blinds be lighter or darker than walls?
Ultimately, the decision of whether blinds should be lighter or darker than walls is a matter of personal preference. However, there are some elements to consider when making your choice. Firstly, dark blinds can help to create a more restful environment and have the added benefit of blocking out more light. Light colored blinds can help bring a sense of airy brightness to a room and make it appear bigger – perfect for smaller rooms.
Additionally, if you are pairing patterned or colored furniture with solid colored walls, then going for an opposite-colored blinds would help draw focus towards the furniture. But whatever color of blinds you may choose, due to their ability to reduce glare and insulation property – able windows will always remain well shaded no matter how vibrant or subdued the surroundings may be.
What color blinds make a room look bigger?
When you're wanting to make a room look bigger, lighter colors are usually the best solution. White and off-white blinds have the capacity to open up an area while neutralizing the bright sunlight that can sometimes reduce the sense of spaciousness. If you want to bring in some more dynamic pops of color, consider a gentle pastel palette of light blues and pinks, as they will still give your space an illusion of size without being too bold or overpowering, making them ideal for smaller areas where a great deal of style is desired.