Making a decision on window coverings for humid environments is an important consideration if you're building a new home or renovating an existing one at the moment.
When it comes to selecting window coverings for your home, one of the most common mistakes people make is selecting a single type of window covering and placing it on every window in the residence. Every room has its own personality and set of requirements, which means that you must select the appropriate window coverings for each room.
In order to choose the most appropriate window coverings for humid areas such as bathrooms, kitchens, and laundry rooms, the right window coverings must combine the appropriate amount of style with privacy, light control, moisture resistance with durability with maintenance.
What is the Best Window Covering for the Kitchen? – Colorado Springs
Window coverings are available in a variety of styles, so deciding on the style of your window covering should be your first priority. Listed below are the five most effective types of window treatments for your kitchen:
Window curtains
Kitchen window curtains are an essential part of any home design, as they not only provide privacy but also can add additional character to the heart of your home. As curtains can easily be updated and refreshed, it is important to select curtains that fit the existing style of your kitchen and blend well with other furnishings. If you're looking for a modern look, consider thick fabric curtains in a neutral color like beige or off-white; if you want something more traditional, lace or patterned material can create an inviting atmosphere.
You should also make sure that the curtain length is appropriate for the size of your window – longer curtains will make a small space appear larger, while short curtains tend to break up a large room. With these considerations in mind, there are endless possibilities when it comes to adding charm and personality to your kitchen with window curtains.
Window shades
Colorado kitchen window shades are a great solution for controlling the amount of sunlight streaming into your kitchen. Having the right shades installed can help you maintain privacy while still having access to natural light. With various fabric, color and style options, you can find the perfect combination that works best for your home décor. If you're looking to let more natural light in during certain parts of the day, cellular shades offer excellent energy efficiency and light control.
Solar powered blinds are also available and are an environmentally friendly way to keep temperatures managed inside your home. Investing in kitchen window shades is a smart decision that not only improves interior aesthetics but also helps maintain energy efficiency in all four seasons.
Window blinds
Colorado window blinds, in contrast to fabric curtains, are constructed of hard materials such as vinyl, PVC, aluminum, or wood. In addition to being attached to a headrail at the top, the hard slats or louvers also have a lifting mechanism. Depending on the size of your kitchen windows, you can choose between horizontal blinds and vertical blinds when purchasing blinds.
Composite shutters
Blinds, shutters, and other types of Colorado Springs window treatments are made up of louvers that are mounted in a solid frame. When the shutter is closed, the louvers are controlled by a tilt rod that is hidden in the back or middle of the shutter. For wet areas, composite window shutters are a great choice because they are low maintenance and provide near-absolute control over air flow and privacy.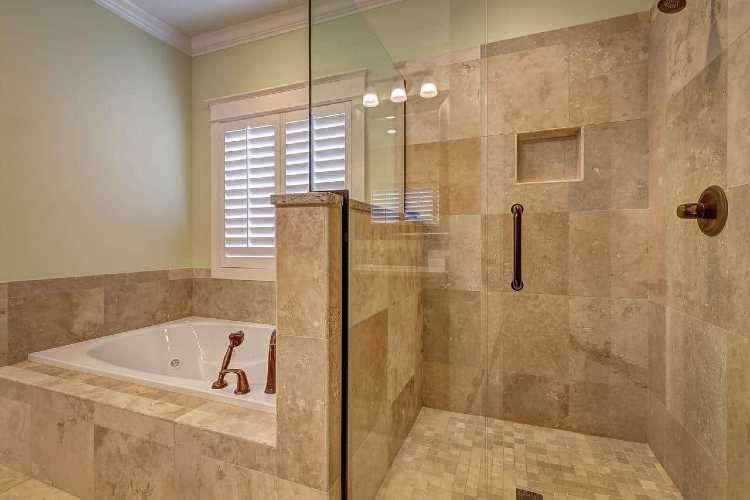 Best Window Coverings for Bathrooms? – Colorado Springs
As much as windows allow us to take pleasure in the scenery and natural light, they can also allow passersby and neighbors to get a glimpse into our lives. Colorado bathroom window treatments provide more privacy than window treatments in the kitchen, which is why they are used in the bathroom.
The five types of window coverings mentioned above each provide a different level of privacy protection. Window coverings such as curtains, blinds, shutters, window film, and privacy shades for windows can prevent people from looking into your bathroom when they are drawn, allowing you to conduct your business in complete privacy. These characteristics distinguish them as some of Colorado Springs's best bathroom window coverings available on the market.
How Do You Cover a Window That is in a Shower?
If you have a shower with a waterproof window, it's only natural to want to cover it up in order to maximize your privacy. The good news is that there are a variety of options available that will allow you to cover up the window in your shower while still allowing light to pass through. They are as follows:
Window film
Window films, which are available in a variety of designs, patterns, and opacity levels, are a great option for making it impossible for anyone on the outside to see what is going on inside your home or business. Window film is waterproof if it is applied correctly, which it is in most cases. This window treatment not only provides excellent daytime light blocking capabilities, but it also provides excellent nighttime light-blocking capabilities to provide a high level of privacy.
Bathroom composite shutters
They provide privacy while also allowing for a small amount of natural light to pass through when the window treatments are tilted down a little bit. Because the bathroom is a high-moisture environment, it is recommended that you avoid using wood shutters and instead use vinyl or composite shutters.
Are Vinyl Blinds Waterproof?
Blinds, in addition to shutters, are an excellent choice for your bathroom and shower windows, as are curtains. Blinds, like shutters, are available in a variety of materials, including vinyl, PVC-based faux wood, wood, and metal, among others. The fact that vinyl or faux wood blinds are waterproof makes them an excellent choice for wet areas such as bathrooms and kitchens.
For the first time, vinyl window coverings, as opposed to wood blinds, are moisture-resistant. As a result, vinyl blinds are not susceptible to rotting, which is a problem that occurs frequently with wooden window blinds in wet areas. Vinyl blinds, on the other hand, do not rust, which is a common problem with metal blinds.
All of Your Window Covering Needs Can be Met Under One Roof
Is it important to you to have high-quality custom window coverings at the most competitive prices possible? Colorado Springs Custom Blinds & Shutters has all of your needs covered. We have a large selection of window coverings for nearly any room you can think of, including bedrooms. We have everything you could possibly want in window treatments, from the most suitable for humid environments to the most versatile.
Please contact us to schedule a complimentary consultation with one of our design experts.
F.A.Q.s
What is the best window covering for humid climate?
Colorado's humid climate can make finding the right window coverings a tricky endeavor. The best type of window covering for this climate is one that will keep moisture and humidity out while still allowing plenty of natural light to come in. Consider installing a dual-track blind or honeycomb shades. Both types of window treatments perform well in humid climates and can be customized with blackout liners if needed.
For extreme glare, roller-style shades work well too as they offer supreme protection from the sun's rays. Ultimately, any combination of these window coverings can not only provide you with privacy and light control but also improve your home's efficiency.
What curtains are best for high humidity?
When you live in a humid climate, selecting the right curtains can make all the difference. You'll want curtains that are not only attractive and stylish, but also able to tackle high humidity. Natural fibers such as cotton and linen will breathe better than man-made fabrics like polyester and acrylic, which help keep moisture out by not allowing it to become trapped within the material. For extra protection against condensation, try lining your curtains with a waterproof fabric or vinyl coating.
To complete your humidity-fighting setup, use hardware that is designed to be corrosion-resistant and which allow you to open and close windows while keeping your drapes drawn. With these best-practice tips fitted into practice, you can find curtains that will be perfect for high humidity rooms!
Are curtains or blinds better for condensation?
Condensation can cause a variety of issues, from stained walls to leaks and wood rot. To keep your home safe and comfortable, the right window covering is essential. Curtains and blinds can both be great options, depending on the needs of your space. Curtains are great for providing insulation; they trap air behind them, creating an extra layer that can help keep heat in during cold weather, while reducing it in summer.
Blinds should be considered if you're looking for light control; some materials like bamboo or wood look wonderful, but are still effective at stopping moisture-filled air from making its way indoors. Ultimately, when choosing between curtains and blinds for condensation reduction, factors like personal preference and how often you open your windows will come into play.