When it comes to enjoying your sunroom to the fullest, having the right shades is key. Not only does the right choice of shades help protect your furniture and floors from the damaging rays of the sun, but they also help control the temperature of the room, creating a comfortable space to relax in. But with so many styles and types of sunroom shades to choose from, how do you know which one is right for you?
Factors such as the direction your sunroom faces, the amount of sunlight it receives, and your personal style preferences all come into play. But with a little guidance and expert advice, you can easily find the perfect shades to keep your sunroom looking and feeling great all year round.
What is The Purpose of your Sunroom?
When it comes to making additions to your home, a sunroom can be a great investment. Sunrooms are a versatile space that can serve a variety of purposes, from a space for entertaining guests to a relaxation area where you can enjoy the natural light filtering in. The primary purpose of a sunroom is to provide a space that allows you to bring the outdoors in, creating an oasis where you can enjoy all the benefits of nature without having to worry about the weather outside.
When designing the best sunroom for your needs, it's important to consider how much natural light you want to let in, as well as the size and layout of the space. That way, you can ensure that your sunroom is not only functional but also beautiful and enjoyable to spend time in.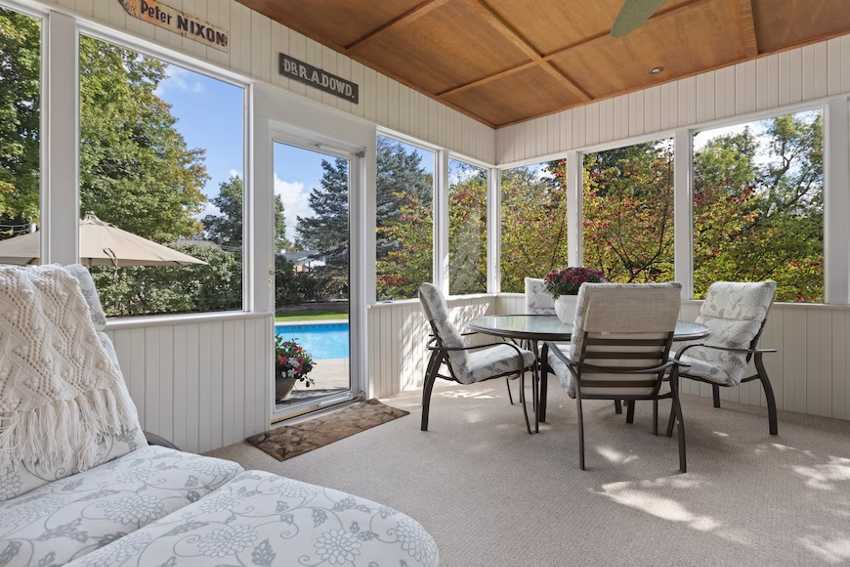 Sunroom Window Treatment Ideas
Are you looking for some inspiration for your sunroom's windows? With so many sunroom window treatment ideas out there, it can be overwhelming to choose the right one for your space. Sunroom window coverings not only enhance the aesthetics of the room but also serve a practical purpose, providing effective insulation and control of natural light.
From cozy curtains and luxurious drapes to modern shades and stylish blinds, there's a vast selection of options to explore. As an expert in the field, I'm here to help you choose the perfect sunroom window treatment that matches your style and fits your budget. Let's create a welcoming and functional sunroom that you can enjoy all year round.
Roller shades Colorado Springs
As an expert in window coverings, I highly recommend roller shades for anyone in Colorado Springs looking to outfit their sunroom windows. These shades are incredibly versatile, providing privacy, light control, and insulation from the sun's harmful UV rays. With the right roller shade, you can effectively regulate the temperature of your sunroom, making it a comfortable space to relax in year-round.
Whether you're looking for bold patterns or subtle neutrals, there are roller shades that will match your decor and personal style. Plus, they're easy to operate and maintain, making them an excellent investment for any homeowner. Trust me, the right roller shade can truly transform your sunroom into a cozy, functional space.
Woodlore
Are you looking to spruce up your sunroom with some stylish window treatments? Look no further than woodlore! These durable and eco-friendly faux wood blinds are the perfect choice for any sunroom. Not only do they offer a natural and organic look, but they also offer superior light control and energy efficiency.
Plus, with their moisture-resistant properties, they can withstand the harsh sunlight and humidity that often come with sunrooms. Choose from a variety of colors and finishes to match your decor and create a warm and inviting atmosphere. Trust us, your sunroom will thank you!
Smart Privacy Faux Wood Blinds Colorado Springs
Choosing the right window treatments for your sunroom can make all the difference when it comes to enhancing both the visual and functional aspects of the room. If you're looking for blinds that can provide privacy without sacrificing style or durability, Smart Privacy Faux Wood Blinds in Colorado Springs may be the perfect solution. These modern blinds are designed to mimic the look of natural wood, while offering the practicality and affordability of faux wood.
The result is a sleek and sophisticated window treatment that is built to last, and that will complement a wide range of design schemes. So whether you're using your sunroom for relaxation, dining, or entertaining guests, Smart Privacy Faux Wood Blinds are an excellent choice that you'll be glad to have made.
Centerpiece Roman Shades Colorado Springs
When it comes to designing a sunroom, the possibilities can be endless, but choosing the right window treatment can make a world of difference. For homeowners in Colorado Springs, Centerpiece Roman Shades are a popular and practical choice. These shades are not only sleek and stylish but also provide the perfect balance of privacy and natural light.
Centerpiece Roman Shades are available in a variety of colors and fabrics, allowing homeowners to customize their design to fit their individual style. Adding the right window treatment can transform a sunroom into a cozy oasis, and choosing a Centerpiece Roman Shade is an excellent place to start!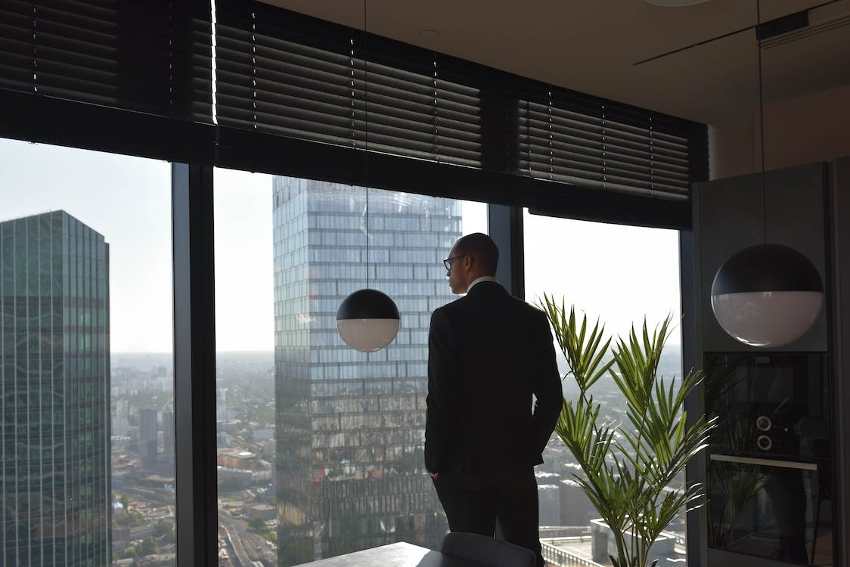 What are the Factors to Consider When Selecting Shades for a Sunroom?
When it comes to selecting the best window treatments for your sunroom, there are several factors to consider. First and foremost, you'll want to consider the amount of light that comes into the space. If your sunroom receives a lot of direct sunlight, you'll want shades that can block out the harsh rays.
Additionally, you may want to consider motorized shades, which can be controlled with the touch of a button and make it easy to adjust the light levels. Other important factors to consider include the style of your sunroom and your personal taste, as well as the durability and quality of the shades you choose. By taking all of these factors into account, you can find the perfect shades for your sunroom that will enhance its beauty and functionality for years to come.
Is Putting Window Treatments In a Sunroom a Good Idea?
As an expert in the world of interior design, I can confidently say that putting window treatments in a sunroom is a fantastic idea. Not only do shades provide protection against harmful UV rays, they also make a sunroom an incredibly comfortable space in any season. During the summer months, they can be pulled down to block out harsh sunlight and keep the room cool.
In the winter, they can be opened up to allow as much natural light as possible while still keeping out the cold. Plus, window treatments can add a touch of style and sophistication to any sunroom, making it a true oasis in your home. So, don't hesitate to consider adding some window treatments to your sunroom – you won't regret it!
Choose Your Perfect Sunroom Window Treatments from Colorado Springs Custom Blinds
When it comes to designing and decorating your sunroom, window treatments are an essential component. But with so many options available, it can be overwhelming to choose the perfect one to keep your sunroom comfortable throughout the year. This is where the experts at Colorado Springs Custom Blinds come in to provide you with helpful guidance.
From cellular shades to roller shades and everything in between, we offer a wide range of window treatment options for your sunroom. Not only will our window treatments add style and personality to your space, but they will also improve energy efficiency and keep your sunroom at a comfortable temperature year-round. Let us help you choose the perfect sunroom window treatments for your home.
We're here to assist you with any questions or inquiries you may have about our Sunroom Window Treatments. Please don't hesitate to contact us.
FAQs
What are the best shades for hot rooms?
When it comes to choosing shades for hot rooms, it's important to keep a few key factors in mind. First and foremost, you'll want to opt for shades that keep the heat out and help regulate the temperature inside your home. Look for shades with insulating qualities or a reflective surface that can deflect sunlight and prevent heat from building up in your space. Additionally, choosing lighter colors can also help to keep your home cooler.
Neutral shades like white, beige, and light grey can reflect sunlight and absorb less heat than darker colors. Ultimately, the best shades for hot rooms depend on your personal preferences and the specific needs of your home. With a bit of research and careful consideration, however, you can find the perfect shades to keep your space cool and comfortable all summer long.
Are there specific materials that are recommended for sunroom shades?
When it comes to choosing shades for your sunroom, it's essential to consider the specific materials that will provide the best coverage and durability for your needs. Generally, sunroom shades are designed to block out the sun's harsh rays and provide a cooler, more comfortable atmosphere within the space.
For this reason, many homeowners choose to invest in high-quality materials like UV-resistant fabrics or woven wood shades that can withstand exposure to sunlight. Additionally, it's important to consider the ease of maintenance and cleaning, as many sunroom shades can attract dirt and dust over time. With the right materials and attention to care, you can enjoy a comfortable, well-protected sunroom for years to come.
Can I customize the colors and designs of sunroom shades to match my décor?
Yes, you can definitely customize your sunroom shades to match your décor. Sunroom shades come in a variety of colors and designs to choose from. Whether you prefer a bold and bright floral pattern or a soft and neutral solid color, there is a sunroom shade that fits your style.
Customization options also include the size and shape of the shades to fit your windows perfectly. Working with a professional designer can help you choose the right shade color and design to match your existing décor. Personalizing your sunroom shades not only provides a cohesive look to your space, but also adds a touch of character and style.