If you're looking for an effective way to control light and boost your home's energy efficiency, roller shades are definitely worth considering! Everything you need to know about these types of roller shades, you will find in this blog article!
What Are Roller Shades?
Roller shades are a popular option to consider when looking for classic window coverings. They provide privacy while still allowing some of the natural light to come in, and they have a modern simplicity that appeals to many people. These shades also come with a variety of materials, as well as different mounting and operating system options so you can find the perfect combination for your home.
Thanks to their robust construction and minimalist design, these shades will stand up over time even with frequent use. Whether you're looking for something classic or want to make an impactful statement, roller shades can provide the perfect way to frame your windows – both aesthetically and functionally.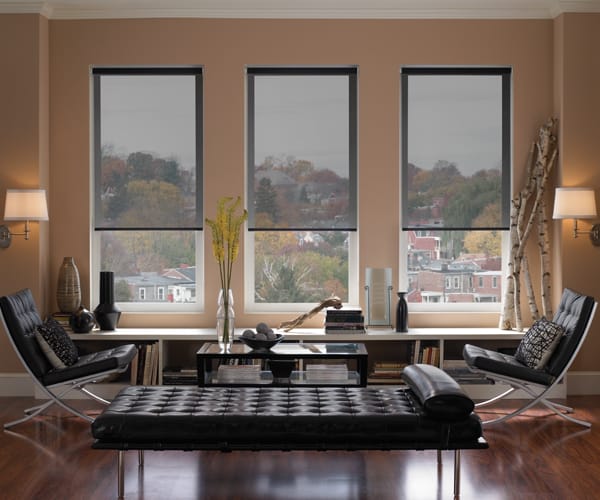 How Do Roller Shades Work?
Roller shades offer a stylish and practical solution for any window. They work by rolling the shade up and out of sight when in use, effortlessly overlapping to keep out light while providing total privacy. To operate, this shade simply requires a slight tug on both ends with your fingertips to raise or lower it. A cordless device can also be used for easy height adjustment, eliminating cords that could be dangerous for children or pets in the home.
They are an excellent choice for bathrooms and ideal for bedrooms due to their extra light-filtering properties. The design also allows them to easily fit into many different décor styles and window sizes, making them a versatile addition to any room.
What is the Difference Between Roller Blinds and Roller Shades?
Blinds and shades are two distinct types of window treatments, despite the fact that many people use the phrases interchangeably. So what exactly is the distinction? Shades, on the other hand, are a single solid window covering made of softer materials, whereas blinds have slats that may be tilted open or closed. The most common materials for horizontal and vertical blinds are wood, woven woods like bamboo, and imitation woods like aluminum and vinyl. Cellular shades, Roman shades, and roller shades are some of the most popular shades on the market.
Window treatments, such as blinds and shades, serve the same basic purpose: blocking out light and providing a decorative or personal touch to a space. One may be better suited to your home based on your personal preferences and lifestyle.
High-end custom blinds might be more expensive than ordinary roller shades, despite the fact that they are typically seen as more cost-effective. Even while basic aluminum blinds are typically less expensive than basic shades, there really is something for everyone. Aluminum blinds cost between $350-750 and are installed for eight windows, whereas roman shades cost between $675 and $1300+.
Benefits of Roller Shades
These shades offer an easy and effective way to update a room in your home. With several levels of light control available, you can use them to instantly regulate the amount of sunlight entering your room. They also provide privacy by blocking out unwanted views while allowing the gentle light of the sun. Finally, they come in a variety of materials and designs, allowing you to customize them perfectly to suit your existing decor. So, roller shades are made not only versatile and simple to operate, but they also provide a stunning yet functional upgrade to your interior space.
Why are Colorado Springs Roller Shades the Best Window Treatment?
Colorado Springs roller shades are popular window covering choice for any home or office. With impressive insulation capabilities to reduce your cooling and heating bills, these shades provide more than just beauty; they offer practicality. Not only do they provide privacy when rolled down, but the modern fabrics can transform a room with vibrant colors and patterns. Furthermore, their ample assortment of lifting options ensure easy access to your curtains when you want to let in natural light. They are not only an attractive and budget-friendly option, but also a great way to lower energy costs year-round.
How to Clean Roller Shades?
Cleaning these shades can be much easier with the right steps and products. To ensure a thorough clean, it is best to start by removing the shades from the window. Then, vacuum or dust both sides of each shade thoroughly for any excess dirt or dust particles. Next, use a soft cloth soaked in warm water and dish soap, coupled with gentle pressure, to rid the shades of any grime. Rinse with warm water before drying each shade individually with a dry cloth; this helps prevent warping or sagging from excess moisture. Last but not least, reattach the shades back onto the window for a fresh finished look!
How to Install Roller Shades?
Installing these shades can be a simple enough task if you have the right tools and instructions. To begin, measure the width of the window to determine the size of the roller shade you need to purchase. Once it has been purchased, assemble all your supplies including a power drill, anchors, and screws. Set up the mounting brackets around the window frame; make sure they're even and square for a proper installation. Attach them securely with your anchors and screws so that your shade will stay firmly in place when in use.
Hang the roller shade onto its two mounting brackets and secure it with the pins that come included in most kits or from your local hardware store. Finally, set its cord lock to ensure that the shade rolls up smoothly without obstruction. With these steps, you should have an expertly installed roller blind as quickly as possible!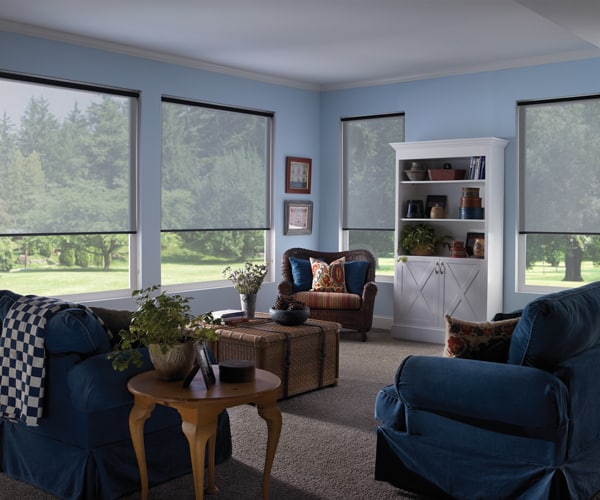 How Much do Roller Shades Cost in Colorado?
When most people think about shades, they picture something like this. Shades that roll up into a single tube are known as roller shades, which are made of a single piece of cloth or soft material.
A roller shade project's pricing might be affected by more than just the window treatment it uses.
Because the more shades you need, the more money you'll spend. However, the costs do not rise at an ever-increasing rate. It is common for many windows or rooms to be discounted to save money. Typical reductions for numerous rooms include $300-$350 for a single bedroom shade and $800-$1,000 for four bedrooms' worth of window coverings.
It normally costs between $30 and $80 for a remote control to operate motorized shades. In the event that they malfunction, a warranty will be a wise investment.
Where to Buy Roller Shades in Colorado Springs?
Colorado Springs is home to a variety of great window treatment options, including some of the best roller shades you can find. Colorado Springs Custom Blinds & Shutters has the perfect solution for anyone looking for the perfect roller shade for their Colorado Springs home; we offer a wide range of styles, fabrics, and colors so that you can find something that fits with your decor and meets all your needs.
Every product comes custom built to ensure a great fit with no gaps, and expert installers are available to help guide you through selecting and installing the perfect roller shades for your Colorado Springs home. With Colorado Springs Custom Blinds & Shutters, you'll be able to find everything you need in one place – giving you quality results while saving time and money.
F.A.Q.s
Are roller shades out of style?
While not the trendiest option, they are far from outdated. In fact, they remain one of the most popular window treatments due to their affordability, diverse options, and ease of use. Roller shades come in many fabrics and colors that won't go out of fashion anytime soon. If you opt for more modern styles such as sheer, solar-shade, or automated roller shades, they offer functionality that rivals more expensive treatments while maintaining a timeless look. Ultimately, when done right roller shades can provide much-needed darkness and privacy without forfeiting style at an accessible price point.
Are roller shades worth it?
Investing in roller shades can be a great addition to any home, offering flexibility, convenience and style all in one. They are easy to install and even easier to use, giving you the freedom to adjust the amount of natural light that enters the room throughout the day with just the pull of a cord. With long lasting fabrics and a variety of styles and colors to choose from, roller shades can easily match any décor for a custom look that's sure to impress. In addition, they are an economical window treatment option that won't break the bank – making them well worth your time and money.
What type of roller blinds are best?
When it comes to choosing the right roller blinds for your space, there are many factors to consider. From materials such as vinyl and fabric, to styles like blackout roller, light filtering and even motorized options, you have to pick the perfect combination of aesthetics and functionality for your needs. Furthermore, depending on the sun exposure in the room and how much insulation you want from the outdoors, you should choose a material that is either heat-resistant or light-blocking so you can keep temperatures at a comfortable level.
Finally, if you want an automated way of opening and closing them remotely, consider investing in motorized roller blinds that come with a remote control or voice activation system. Rest assured that whatever option you choose, there will always be something to suit both your style and practicality desires.
What should I look for in roller shades?
When choosing the best roller shade for your needs, there are a few things to consider. First, think about what degree of privacy you need. If you have large windows that face directly onto a street or neighbor's house, look for blackout shades with an opaque back layer for complete privacy. Another option is to choose dual shades, where one side faces inwards and one side outwards – it provides both complete darkness and the opportunity to enjoy some daylight during the day.
Additionally, make sure to find shades with sturdy material so they will last longer and be able to provide reliable protection from the sun's harmful rays. Every home is different and has its own unique set of needs; therefore it's important to explore different options and take time when selecting the perfect window covering for your home.
What color is best for roller shades?
When deciding on the best color for your roller shades, there are a few key points to keep in mind. First and foremost, consider how the shade will coordinate with the wall and other furniture in the room. If you have a neutral-toned room, you might opt for something light like beige or cream – these tones will blend in nicely and add a touch of warmth. However, if you want to give the space more depth and interest, dark colors like brown or charcoal gray can lend an elegant feel.
Finally, remember that texture can play a big role too – if your overall aesthetic calls for texture texture, then taking into account which fabric option complements that look is essential. Once all these factors are taken into consideration, choosing the perfect hue for your roller shades becomes a much simpler process.