Are motorized blinds something you're thinking about getting for your house? good taste! Everything is either motorized or can be controlled by voice control technology in today's world. We have command over a great deal, including the lights, the heating, the music, and even the robot that cleans the floor. Why, then, do we stop there? We are all, if we are honest with ourselves, always searching for new approaches that will make our day-to-day lives just a tad bit simpler. It's possible that motorized blinds are the solution you've been looking for all along.
What are Motorized Blinds?
Luxurious window coverings known as motorized blinds are controlled totally through the use of remote control that is connected to a motorized unit. They give the appearance of a standard blind to someone who has not had prior experience with blinds. On the other hand, they do not have the chains, cords, or hooks that are typically seen on "regular" blinds, and they leave a lot of other perks to be desired as well. They make everything as easy and convenient for you as it possibly can be. How would you like to be able to adjust the level of light and privacy in your home without having to get up? The aspiration! Because they have been around for a considerable amount of time, now are available in a wide variety of designs to accommodate customers with varying preferences and financial constraints.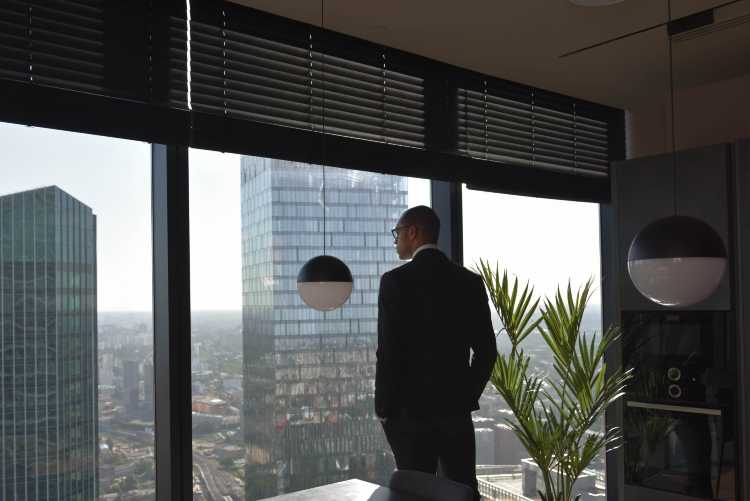 How Does Motorized Blinds Work?
Installing motorized blinds is, contrary to popular belief, not only quite simple but also very affordable. Because the motorized unit that powers the blinds is built into the main construction of the blind, there is no need to wire them into your electrical system, and the blinds have a more streamlined appearance as a result. The majority are created with convenience as a primary design consideration. The Motorized feature is powered by a rechargeable battery that has a life expectancy of up to six months and can be readily charged using a standard USB wire.
How are motorized blinds powered?
Most run on battery power and use motors to pull up or down cordless lifting systems. Custom motorized blinds can also be installed with a low voltage transformer for unlimited motor operation without having to change out batteries every few months. If you're looking for an easy way to upgrade your window treatments, these blinds are definitely a great option!
Which Types of Blinds Are Capable of Being Motorized?
Motorization is an option for vertical, roller, pleated, and vision blinds, among other specific types. All of which come with a variety of design possibilities, ranging from prints that are neutral to prints that feature brilliant colors and textures. The conclusion is that the installation of motorized blinds is, indeed, well worth the money. Your life will be improved with a dash of luxury, elegance, and ease thanks to them, and on top of that, they'll make you seem stunning!
Our motorized options are the best option for you to go with in order to bring ultra-current technology into your house if that is something that you are interested in doing. From verticals to rollers and everything in between, we have hundreds of different models available in a wide variety of colors and designs. Please contact us for more details!
What are the Advantages of Having Motorized Blinds Installed?
The installation of comes with a plethora of advantages that are all yours to enjoy. Where do we begin?
1) The Primary Advantage
An Increase in Luxuriousness Let's begin with the most important advantage! Oh, the opulence! You won't ever have to get up to manually open or close your blinds again thanks to this convenient new feature! With this type of blinds, you can take it easy, relax, and take pleasure in the uncomplicated nature of everyday living.
2) The convenience of its use
Because of the straightforward nature of the remote control, utilizing and comprehending motorized blinds is a very straightforward process. It's so easy that even a child could do it! You can easily open and close your blinds by clicking the up or down arrow on your keyboard.
3) There is no wiring for the mains
When it comes to motorized option, contrary to what you might believe, there is no main wire involved at all! You can charge the blinds quickly and easily with a USB connection because they have a battery that can be removed. Additionally, the battery life is quite lengthy. You should anticipate having to charge them approximately once every six months!
4) Naturally Secure for Young Children
These blinds have no strings or cords, so they are intrinsically safe for use around children. The advent of motorization means you may finally get rid of those unattractive chains and potentially hazardous cords.
5) Affordable
Although they were always thought to be prohibitively expensive, there is now a motorized option available at a price that is appropriate for every budget. Look it up on our website and judge for yourself!
6) Quiet to Operate
It's possible that you believe the motor that's built into, would be rather loud while it operates. Nope! Motorized blinds come with an operating system that is remarkably quiet and won't fill your home with any annoying 'buzzing'.
7) Excellent for Windows That Are Difficult to Access
The installation of skylights and Velux windows is an excellent choice if you want to flood your home with natural light. On the other hand, there are bound to be occasions in which you'll find yourself desiring to obscure that light. Using the straightforward remote control, your Velux window blinds may be quickly and easily drawn shut.
What Are the Best Motorized Blinds Colorado Springs?
These blinds are quickly becoming the go-to choice for window treatments in many smart homes. Not only do they offer superior convenience, allowing users to easily open and close them with a remote, but also more control over light. With motorised blinds, you can open and adjust blinds depending on your needs – whether it's blocking out sunlight during the morning hours or creating even more ambient light in the evening.
The best motorized blinds in Colorado Springs are those that make use of a reliable motor, incorporate sturdy materials for long-lasting durability, and feature settings that allow you to customize light levels at precise times of the day. If you're looking for an effective way to control your home lighting, look no further than motorized blinds for your ultimate convenience and comfort.
How Long do Motorized Blinds Last?
Automation blinds can provide convenience and a sleek look to your windows while helping keep the elements, like sunlight, outside and energy bills low. But how long do they last? This depends on the quality of motorized blinds you have installed, but typically they will last between 15-20 years with proper maintenance and service. Regularly cleaning dust off of motorized window treatments and ensuring their motors remain lubricated will help ensure a longer lifespan. If persistent problems arise even after trying to troubleshoot or fix the issue yourself, contact a certified technician who is familiar with motorized window treatments to take a closer look.
How Much are Motorized Blinds in Colorado?
These blinds can be an excellent way to add convenience and modern flair to any living space. In Colorado, prices for automated blinds will depend on a variety of factors such as the size, material, and installation requirements. Generally speaking, you can expect to spend between $200-$1000 depending on the features included in the blind and how intricate the setup is. If your project requires a more complex system, you may want to consider seeking out a professional installer to ensure the job is done right. Shopping around Colorado Springs can also help you find great deals while still getting high-quality materials. With so many options available, there's sure to be something that suits both your budget and aesthetic.
F.A.Q.s
Are motorized blinds worth it?
They are an investment for sure, but for certain individuals, like the elderly and those with disabilities, they are a worthwhile purchase. With the ability to control your blinds or shades from any remote device, you can provide privacy and comfort without having to leave your chair or bed. Furthermore, motorized blinds can help keep homes cooler in the humid summer months and warmer in the chillier winters as they can be adjusted with a quick tap as opposed to having to manually adjust them. In short, smart blinds provide convenience and energy savings benefits, making them worth their investment for those who need them.
Do motorized blinds need to be plugged in?
Many modern automation blinds are battery-operated and do not need to be plugged into an outlet. However, certain types of motorized shades that can recharge their batteries will still require a hardwired connection. Additionally, some older motorized systems may need to be plugged in, depending on the model and style. Knowing ahead of time whether or not your window treatments require plugs will help you make sure your installation goes as smoothly as possible. Ultimately, it's important to carefully read the manual before beginning any installation so that you know what is required for your specific product.
What is the difference between electric blinds and motorised blinds?
Electric blinds and motorised blinds are two types of remote control blinds available that offer different control options. Electric blinds allow you to tilt slats and can be manually opened, but will not close on their own; this makes them ideal for windows where light control is the primary concern. With motorised blinds, you have the option to open and close your blinds at the touch of a remote or button – but it comes with an installation cost. These come with more advanced features such as scheduled remote control so they can open and close at set times without disruption. If remote control is what you're after, its worthwhile considering professional installation to get the most out of your window coverings.