Blinds are typically not installed in the kitchen area because it does not require as much privacy as the living room. However, many people choose to use a kitchen curtain on the door to make this area more secluded and private. Currently, you can install these blinds on both the outside and inside doors, because both have glass that allows light to enter.
As a result, many people choose to purchase beautiful kitchen door blinds or curtains that provide privacy while also decorating those doors.
Should I Pick Blinds or Curtains for Colorado Springs Kitchen?
When it comes to choosing between blinds and curtains for your Colorado Springs kitchen, consider that both offer a wide range of benefits. Blinds provide precise light control and superior insulation. They also tend to be relatively inexpensive given their longevity and durability. Curtains, on the other hand, offer unparalleled customization options. Their soft texture can instantly give any space a warm, inviting feel. Depending on the desired atmosphere of your kitchen, you may find one option more appealing than the other.
Take into account the amount of sunlight that enters from which direction, as well as what texture or pattern to use in order to create your ideal kitchen aesthetic. All-in-all, picking out the right window dressing will depend on what suits best with the look and feel that you want in your Colorado Springs home!
The Best Colorado Springs Blinds for a Kitchen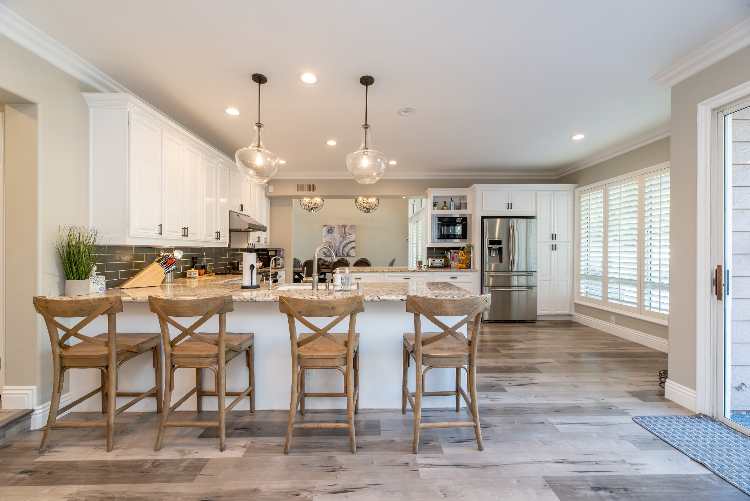 1. Roller blinds for the kitchen
Roller blinds have been a popular choice for kitchen windows for many years and it's easy to see why. With an array of attractive styles, prices and practical features available, roller blinds can offer a great combination of light control, style and convenience. The contemporary range of fabrics available these days also provides homeowners with the perfect way to match their décor or provide accents that enliven any kitchen interior.
Roller blinds are also particularly durable and with their simple controls, they can be opened and closed quickly and easily to give privacy when needed without letting in too much unwanted light. With such a range of excellent benefits, it's not hard to understand why roller blinds remain the go-to choice for many homeowners looking to furnish their kitchen windows.
2. Venetian blinds for the kitchen
Venetian blinds make the perfect window covering option for a kitchen. They provide the most variation in light control, while also offering a modern look that will complement many different types of kitchen designs. The slats give you the ability to control sunlight, allowing more light into the room during summer months and providing more privacy for your kitchen in winter.
In addition, since venetian blinds hang from robust metal track systems, they are incredibly low maintenance and easy to install. If you're looking for an easy and stylish way to enhance your kitchen look, venetian blinds are an excellent choice.
3. Kitchen Vertical blinds
Decorating the kitchen can often be a challenging task. Utilizing vertical blinds for your kitchen window is an excellent option to provide style and color, all while making your space both stylish and functional. Kitchen vertical blinds are an inexpensive way to add depth and warmth to any window without sacrificing too much of your budget. With their smooth movement and diverse array of colors, these blinds can easily complement any style, whether you prefer traditional or contemporary decor.
They also provide protection from unwanted sunlight as well as protection from cold drafts and heat gain during summer months. Best of all, they require minimal upkeep which makes them a great option for busy households. Vertical kitchen blinds not only look great but can also increase the efficiency of your home in both energy usage and aesthetic appeal!
4. Dark kitchen shades
Dark kitchen shades, although not for everyone, can be particularly alluring and inviting when done right. The trick is to balance the light so as to not create too much of a contrast with other colors in the room. A great way to achieve this is by integrating smaller accent lights, such as under-cabinet lighting or wall-mounted sconces into your design plan.
This will help to bring out the full potential of your kitchen's style while providing an equal amount of brightness and contrast without overwhelming the space. Ultimately, dark kitchen shades are a creative way to give your kitchen personality and vibrancy, you just need to open up the right combination of colors together to really make it pop!
5. Wooden shades for the kitchen
For homeowners that want to bring a charming, homey feel to their kitchen, wooden shades can be an excellent option. They're available in a variety of styles, from warm and rustic to sleek and modern, allowing you to choose the right look for your space. Moreover, wooden window treatments provide superior protection from harsh natural elements while still creating a bright and inviting atmosphere.
And because they come in a range of price points, they're accessible to all types of budgets. So if you're looking for an affordable and elegant way to refresh your kitchen's aesthetic, look no further than wooden shades!
6. Choose a designer print for your kitchen
When it comes to picking out the perfect designer print for your kitchen, it can often be challenging to decide which one is right for you. Consider the different colors, patterns and textures that will work best in your space. Think also about whether you're going for a modern look or a muted, classic print. Look at other elements of your kitchen such as cabinets, appliances and fixtures to ensure that the print you choose complements existing décor.
Whether you opt for cheery florals or sleek stripes, choosing a custom designer print is a great way to make your kitchen more inviting while creating an aesthetic you certainly won't find anywhere else.
7. Motorized blinds for kitchen convenience
Motorized blinds are the perfect solution for those who want to enjoy the convenience of controlling their window coverings from the comfort of their kitchen. With a motorized blind system, you can easily adjust your blinds with just a press of a button. Not only does this save time and effort in adjusting traditional corded blinds, but it also prevents accidents caused by dangling cord that can pose a choking hazard for small children and pets.
Motorized blinders offer exacting light control throughout the day, so you can welcome natural light during breakfast in the morning without having to worry about bright sunlight streaming through your windows during lunchtime. If convenience and safety are your priorities, motorized blinds are an excellent choice for your kitchen.
8. Non-fabric kitchen blinds
Non-fabric kitchen blinds are becoming increasingly popular as a stylish alternative to traditional curtains. Not only can they provide insulation and light control, but they come in a range of styles and materials. Faux wood or faux stone are perfect if you're looking for a more cost effective option that still looks luxurious. While aluminum is an excellent choice when trying to maintain a modern, contemporary look in your kitchen.
Plus, non-fabric options offer the added bonus of being easier to clean – no need to worry about taking delicate fabrics down for laundering! With such versatility, it's easy to understand why so many people are choosing non-fibric kitchen blinds for their window treatments.
The Best Colorado Springs Kitchen Curtains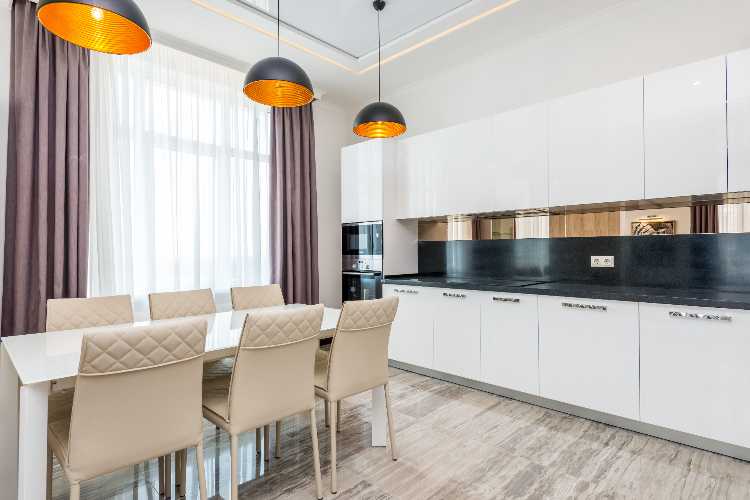 1. Vintage kitchen curtains
Vintage kitchen curtains can be a wonderful way to bring some classic style and personality into your cooking space. If you're worried about the fabric becoming dingy with all that cooking smoke, lots of vintage kitchen curtains are made out of materials that are suitable for wiping down. Not all materials are practical so always check the label before purchasing. Look to subdued shades like beige or light blue to inject some vintage style while still giving your kitchen a contemporary feel. Adding a few unique accessories in similar colors can create an interesting mood that is both stylish and sophisticated.
2. Whimsy curtain styles
Whimsy curtains can be a great way to lighten the atmosphere in any room. Whether you choose to go with a more subtle pattern or an eye-catching print, these styles of curtains create just the right amount of personality. To get started, look for curtain fabrics that have intricately ornate details like floral motifs and colorful prints. Patterns like this are vibrant yet delicate enough to give your rooms a touch of magic—but still stylish enough that they'll blend in with existing decor.
Whimsy curtain styles may not be suitable for everyone's tastes, but if you're looking to add that special something to your windows then they should definitely come into consideration!
3. Classic Roll-Up kitchen curtains
Classic Roll-Up kitchen curtains are a popular choice for those looking to give their kitchen a timeless, yet modern feel. These curtains can range from traditional to contemporary designs and come in an array of colors and materials, making it easy to find the perfect set for any decor. They are also a breeze to install yourself with just a few simple steps. Not only do these curtains bring warmth and coziness to the space, but they're easy to keep clean due to the roller design.
For ease of use, you can choose curtains with a tension rod that will hold them in place as well as provide stability while lifting or lowering. For those looking for an economical option, pleated fabrics are always an attractive choice and will last longer than other materials on the market today. Get ready to transform your kitchen into the welcoming retreat it was meant to be!
4. Valance curtains
Valance curtains are the perfect way to spruce up a kitchen. They come in a range of colors, sizes and designs, so you can create the look you desire while adding texture and dimension to your space. These windowtoppers are relatively inexpensive and easy to install, so they're great if you're looking for an affordable way to give your kitchen an updated look. For some added flair, consider accessories such as curtain tiebacks and decorative rods that will take it up a notch. With the right selection of valance curtains and hardware, you'll be sure to have your dream kitchen in no time!
5. Modern cafe curtains
Modern cafe kitchen curtains are a great way to provide your space with a touch of style and sophistication. Whether you're looking for something modern and eye-catching, or a more subtle and traditional design, there's something for everyone – from roller blinds to Roman blinds. Not only can modern cafe kitchen curtains transform the look of your cooking space, but they can also help to keep light and noise out when needed.
It's important to consider the function as well as the form when selecting cafe kitchen curtains – choose fabrics that are blackout or flame retardant if needed, but make sure they still match the aesthetic of your room. With so many different prints, colors and designs available, there's no reason not to find something perfect for your kitchen!
6. Rustic Kitchen Curtains
When looking for the perfect rustic kitchen curtains, you want to choose one that complements your décor. Consider features such as thick material in a solid color rather than patterns or embroidery to give your space a natural and homey feel. A good option is cotton fabrics with a unique grain which can filter light and keep a room comfortable inside from the heat of summer.
Choose neutral colors like shades of beige or brown so that the curtains enhance any furniture without competing with it for attention. With their classic look and charm, rustic kitchen curtains can also be accessorized appropriately by finding some elegant finials or attractive tie-backs.
7. White Modern Kitchen Curtains
When shopping for a modern kitchen look, white is the ideal color for curtains as it gives an open and spacious feel. The best part of choosing a white curtain is its versatility; you can accessorize with various colors, patterns and textures to give your kitchen a unique blend of sophistication. By adding colorful hues, you can make the room lively while maintaining an overall bright feel.
For added texture and dimension, layer with sheer fabrics or lightweight drapes that can be pulled back during the day to bring in natural light. With so many options available today, selecting the right white modern kitchen curtains is an easy task that will transform your space into one with timeless appeal.
8. Sheer pattern
Wicker and checkerboard designs are both timeless kitchen sheer patterns with a range of complementary colors. If you're looking for a classic look, these options will be the perfect choice. Today, however, there are plenty of more fashionable designs to choose from too! Stripes can create a contemporary style in the kitchen that looks cool and elegant. For something with a bit more fun one might go for abstract prints or floral patterns for an airy summer feel in your space.
Of course, one must consider the type of fabric used, as different materials may be better suited to different living environments. Ultimately, taking time to consider what design would best fit your lifestyle and overall aesthetic is key when selecting a pattern for your kitchen curtains.
Where to Buy Kitchen Blinds or Curtains in Colorado Springs?
If you are looking for stylish blinds or curtains to add a unique touch to your kitchen in Colorado Springs, then you have come to the right place! There are numerous stores and boutiques in the area that specialize in custom window treatments. For example, Colorado Springs Custom Blinds & Shutters offer a wide array of blinds and curtains that can really make your kitchen stand out, while also providing excellent privacy measures.
FAQs
What type of blinds is best for kitchen?
When it comes to choosing blinds for a kitchen, there's plenty to consider. Wooden or plastic blinds may be more aesthetically appealing and easier to clean, but if moisture accumulates in the kitchen due to steam and cooking grease, then vinyl or faux wood blinds are a much better option as they are better equipped to handle the elements. Additionally, vinyl blinds are more versatile when it comes to sizes and shapes. If you're looking for something a bit more trendy, roller shades offer an array of decorative styles and colors.
For ultimate control of natural lighting and privacy, consider pairing roller shades with vertical slats on your windows or in other high-traffic areas such as the countertop. Ultimately, the choice of blinds for your kitchen depends on your lifestyle habits and personal preference so be sure to choose something that works best for both functional and decorative purposes.
What type of curtain is best for kitchen?
The type of curtains that are best for kitchens depend very much on the style and ambiance you're aiming to create. If you're looking to create a bright, cheery atmosphere, choosing light cotton or linen curtains with a subtle pattern can help bring out the natural light streaming in from your windows while adding some contrast to the room. On the other hand, if you're going for something warmer, a heavier fabric such as velvet or damask works well to absorb sound and filter ultraviolet rays while introducing texture and warmth into the space.
If privacy is what you're after, then thermal curtains offer the perfect balance of light control and style. They come in several sizes and designs so there's sure to be one that suits your kitchen decor perfectly. Whichever type of curtain you choose, making sure it is easy to maintain will help keep it looking great for years to come!
How to hang kitchen curtains?
Hanging kitchen curtains can be a simple task if you know the steps involved. To start, you need to take precise measurements for a proper fit and purchase hanging hardware that fits your style. Be sure to account for the rods being at least 2 inches above the window frame. Then, install the curtain rod brackets and hang the rod but do not tighten up until both curtains are hung up. When hanging kitchen curtains, use curtain hooks for easy removal & cleaning accessing; plus it makes the installation process a breeze.
Once your curtains have been installed make sure to use non-marking pins or clips to secure them above the window sill or gently pinch you fabric together at top . Finally, adjust the tension of your hanging hardware to fit your design aesthetic preference and enjoy your new decor!