In the kitchen space, blinds are usually not placed, because it is a place where you may not need as much privacy as the living room. But there are many people who decide to use a kitchen curtain on the door to make this area a little more secluded and private. Currently, you can place these blinds on the door that leads to the outside, as well as to the inside, because both usually have glass that lets in light.
That is why many people decide to buy beautiful kitchen door blinds or curtains that provide privacy and also decorate those doors.
Why put blinds in the kitchen
In the kitchen you usually avoid blinds that let in light and thus have better visibility, especially when the kitchen is barely natural light. This is why so many people decide to use curtains, both on the windows and on the kitchen door. This can happen for two reasons. On the one hand, these have a beautiful design that can give the door an elegant and beautiful touch, with a very diverse design. On the other hand, you might want to have a little privacy in this area, because you often have guests and you don't want them to see this area. Or if it's an outside door, you want to have privacy from your neighbors' eyes. It is clear that the curtains on the door can be an additional value in the decoration.
Classic Door Curtains vs. Blinds
The classic blinds can be the best choice for doors in this timeless style. In this case, you can see some blinds that have a fabric in the center that collects them. This way you can easily let in light and have decorative blinds on the door. These curtains, if they are so big, usually have a little opaque fabric so that they allow light to pass through. Because if they were darker or denser, you would have a kitchen with a little natural light. In addition, neutral tones are much better in classic styles, such as gray, beige or simply white, simple designs. Kitchen door blinds on the other hand can be used on external doors towards your patio or the back yard. They protect from extensive sunlight and other external influences. 
Bamboos Blinds for the Kitchen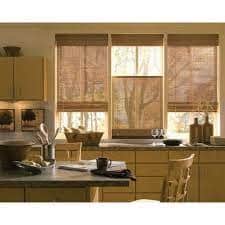 Shutters can be a modern choice for your kitchen doors. In addition, there are blinds of many sizes. There are also bamboos of the same format for the doors, much more elongated. They are easy to raise and lower. In this material, they give the kitchen a very natural look, so they are also very popular, although it is necessary to prevent them from taking in moisture. As for the choice of blinds, you also have those made of fabric, which are more popular because they have an infinite number of designs.
Appropriate Matching Blinds for Windows and Doors
If, in addition to a beautiful door design, you also have windows in the kitchen, you can always use the same design of blinds. In this case, they used blinds made of exactly the same fabrics, so you imagine that they are custom blinds. This may be a little more expensive, but the truth is that you can find great designs to decorate your kitchen with blinds for doors and windows. In this kitchen, they opted for autumn tones that go with the wardrobes and with a floral pattern that really never goes out of fashion.
Retro Lemon Kitchen Curtains
In this case you see some window blinds that can serve as an example in kitchen door curtains. The design is great for the kitchen, with a few fun lemons and a yellow shade that is perfect for beautifying any type of kitchen. These designs with food or things related to the kitchen are also quite common with curtains, because they only make sense in a place like the kitchen. In addition, you must not forget that this year, prints with lemon are very popular, so you will become a trend with blinds like this.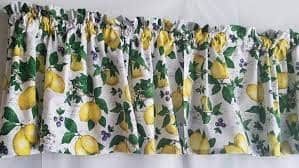 Kitchen Doors with Venetian Blinds
Another good choice for kitchen doors are Venetian blinds. These blinds are perfect for doors, because by moving the slats you can regulate the passage of light. In addition, they can always be raised or lowered, so that you let in more or less light. This versatility is what makes them ideal for an area such as a kitchen where you want to regulate the passage of natural light so that you can work.