Honeycomb shades and roller shades are best-selling window treatments. They may seem similar initially but have different features and performance capabilities. Find out about the differences so you can find the right window treatments for your home.
What Are Honeycomb Shades?
Honeycomb shades are a kind of blind or window covering. They are unique because they are constructed in such a way as to trap and hold air between the layers of fabric, creating insulation inside your home. Honeycomb shades come in a variety of fabrics, giving you the freedom to choose something that fits perfectly with your interior design tastes while also benefitting from their versatile insulating feature.
They have distinctive, geometric-shaped pleats that hold air at windows, which are your house's main source of energy loss. This helps keep your home more comfortable and may even lower your energy bills. They come in light-filtering and opaque fabrics. And some options include a room-darkening panel for more light control.
Not only do honeycomb shades provide superior insulation to help keep energy costs low, but they also reduce noise levels making the room a more peaceful and private environment for relaxation.
What Are Roller Shades?
Roller shades are a simple and versatile window treatment that are a great choice for any room. They feature two pieces of fabric, one that sits at the front, and another riding against the back, creating a neat pleat when you lower them. This style is perfect for light control – letting in plenty of natural light on sunny days and providing maximum privacy at night. They come in a wide range of colors and textures so you can find something to match your tastes and décor.
Colorado Springs roller shades are also energy efficient, helping you keep your home cool during the summer months, while providing insulation during winter when they're pulled down. A budget-friendly choice at an affordable price point, roller shades offer exceptional value for money.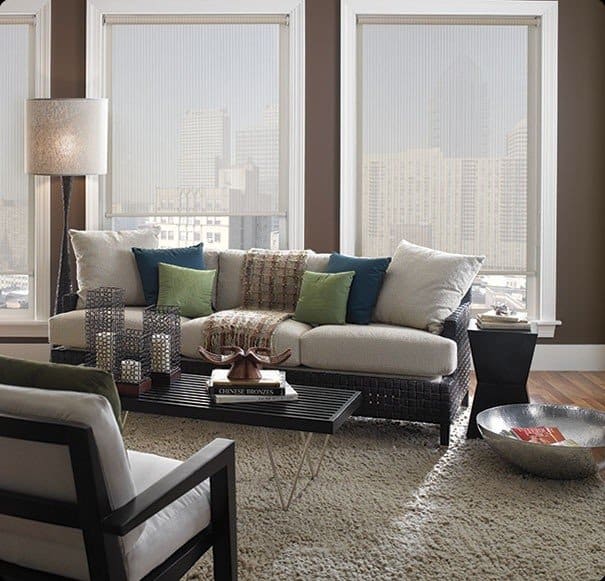 Honeycomb Shades vs Roller Shades Colorado Springs
Smart Home Automation
Winner: Tie
Move your shades on your time with PowerView®. Whether at home or out and about, you can control your motorized roller shades or honeycomb shades with just a tap of your smartphone or tablet. You can also raise and lower your shades with your voice, if you integrate PowerView with Amazon Alexa, Siri® on your Apple device or Google Assistant.
Most Customizable
Winner: Tie
Your home is unique, and your shades should reflect that. Whether you go with honeycomb or roller window shades from Colorado Springs Custom Blinds & Shutters of Colorado Springs you'll be able to choose from hundreds of fabric styles. You'll be able to find just the right color, pattern, texture, opacity and more.
The honeycomb shades boast up to six layers of fabric and five insulating pockets, making them the most energy-efficient honeycomb shades you can buy. With optional features, you'll enjoy outstanding light diffusion, room-darkening and blackout capabilities.
With energy-saving, triple-cell construction, honeycomb shades are designed to work with a variety of budgets. You can also add all-in-one light diffusion and room darkening.
Most Versatile
Winner: Honeycomb Shades
Roller shades have limits on how much they can be adjusted. With top-down, bottom-up honeycomb shades, you'll be able to customize your privacy and light control. If you're looking for a window treatment for doors, there's convenient vertical honeycomb shades. Your local experts from Colorado Springs Custom Blinds and Shutters can help you make just the right decision during your free, in-home consultation.
Energy Efficiency
Winner: Honeycomb Shades
If you want to keep your home comfortable at a more energy-efficient temperature, we suggest Colorado Springs Honeycomb shades. Their pockets trap air at the window, keeping heating and cooling indoors. Plus, the added insulation from these window treatments can naturally decrease outside noise.
Most Modern
Winner: Roller Shades
With modern fabrics, up-to-date hardware and simple design, modern roller shades are a gorgeous complement to your style. These modern roller shades come in more than 400 fabrics ranging from sheer to fully opaque.
Light Filtering
Winner: Roller Shades
If you have a south-facing home, you know just how harsh the sunlight can be. Create a warm glow with light-filtering roller shades. With your choice of opacity, color, pattern and texture, your house can look just like you want it to.
Blackout Capabilities
Winner: Tie
Ready-made shades might seem like a great value at first, but they're prone to annoying light leaks. Colorado Springs Custom Blinds & Shutters custom manufactures your shades to ensure a good fit. Whether you're looking for blackout honeycomb shades or blackout roller shades, our design consultants can help you create a solution just for your home.
Blocks Heat
Winner: Honeycomb Shades
The pockets in honeycomb window shades have a dual purpose. They keep more air conditioning in your home and keep more heat outside. For the greatest comfort, we recommend customizing your Colorado Springs honeycomb shades with six layers of fabric and five insulating air chambers.
UV Protection
Winner: Roller Shades
Our roller shades don't just look good. These solar shades also keep out damaging UV rays that can bleach your flooring, furniture and artwork. They're available in many opacities so you can still enjoy a view while protecting your home.
Start Creating Your Custom Shades Now
Creating custom shades shouldn't feel like a chore. It should be a fun and even enjoyable experience. Get started by scheduling your free, in-home consultation by calling us at 719-344-2799 now. We'll bring the showroom to your home, in addition to free measurements and a free, everything's included quote. There's no pressure to purchase, just free advice on how we can elevate your home.
F.A.Q.s
Are honeycomb shades better than roller shades?
Honeycomb shades, also referred to as cellular shades, and roller shades are both popular window treatments that offer a variety of benefits. Honeycomb shades naturally insulate and provide an extra layer of protection between your windowpanes and the inside of your home. The insulation not only blocks out harmful UV light but can also help with energy efficiency by keeping heated and cooled air from easily escaping. Roller shades on the other hand tend to be less bulky which makes them perfect for any space that is small or otherwise limited in terms of size.
Both honeycomb and roller shades come in a variety of materials, styles and sizes, so you're sure to find something that will match the aesthetic you want for your space without sacrificing function. Ultimately, it depends on your individual needs when it comes to picking between honeycomb or roller shades.
What is more expensive roller shades or cellular shades?
If you're looking for an affordable window treatment option that still looks great, it's hard to beat roller shades and cellular shades. Both provide a modern look and can be found in a wide variety of vibrant colors and fabrics. However, when it comes to the bottom line, cellular shades are more expensive. This is because they are more substantial than roller shades; they consist of two or more layers of fabric connected with air pockets between each layer.
As a result, they are much better suited at filtering light compared to roller shades, as well as providing insulation against heat and cold. Ultimately, your choice should depend on how much you're willing to spend and what features you're looking for in a window treatment.
Are honeycomb shades worth it?
Honeycomb shades may certainly be worth it for many homeowners, depending on their needs. These cellular shades have a pretty unique shape that provides insulation and soundproofing, while also giving your home a distinct look. Additionally, they're available in light-filtering, blackout, and sheer options so you can easily find one that fits the style of your space. In addition to energy savings and sound control, honeycomb shades are simple to use. They lift up with ease, making them convenient for large windows or those hard to reach areas.
However, they may not be worth it if you need the softest of fabrics. Honeycomb shades provide versatility but you might want to check out other window treatments if you're looking for a more luxurious look and feel.