Do you want to reduce your bills? Do you want to keep your home warm, especially during winter? If yes, time to install Outdoor blinds for your home!
Outdoor window blinds are a great addition for your home because they add beauty and enhance your home's appearance. Blinds make your home warmer because they help to insulate your home and prevent the frost and cold breezes hitting your windows. Insulation means trapping the warm air inside which makes you feel warmer when you are inside.
What Are the Best Outdoor Blinds for Your Home at Colorado Springs?
Outdoor blinds are an excellent way to increase comfort and privacy while you enjoy the outdoors in sunny Colorado Springs. Whether you're looking for something decorative like bamboo shades or a more functional and economical option such as roll-up blinds, selecting the right option for your home depends on several factors including the size, shape and location of your outdoor area. For instance, if you have a large area that gets lots of sun, blackout roller shades are ideal for blocking out light, heat and glare.
On the other hand, if you need to shade a long patio or balcony that's exposed to harsher winds, it might be best to use canvas or vinyl welded shutters with wind locks that can withstand strong gusts. With so many options available on the market today, take time to explore which type of outdoor blinds are most suitable for your house in Colorado Springs.
How to Clean Outdoor Blinds?
A dirty outdoor blind can ruin the décor of any home. However, giving them a thorough clean does not have to be a daunting task. According to experts, the best way to keep outdoor blinds looking fresh is to hoover them regularly with an upholstery brush, paying special attention to those pesky cobwebs. By getting rid of any dirt and dust particles, you're preventing further damage from occurring over time.
Additionally, you can give them a deep clean every couple of months by wiping down each slat with a damp cloth and warm water or for tougher stains, use soapy water and wipe with a soft brush. Remember to leave the blinds open until they are completely dry in order to prevent mould buildup. And lastly, relying on professional cleaning services once a year is advised as it gives your blinds a deep clean while preserving their quality in the long run.
Why Buy Exterior Window Treatments?
If you're looking to spruce up the outside of your home while still maintaining functionality, consider investing in exterior window treatments. Exterior window treatments are a great way to give your home an updated, warm look and feel. From shutters to shades to awnings and beyond, these treatments allow you to customize your windows from both an aesthetic and practical perspective.
Not only can window treatments improve the curb appeal of your home, but also add insulation for improved temperature regulation throughout the warmer and cooler seasons. Additionally, UV protection helps prevent furniture and flooring from fading due to sun exposure. With nearly endless customization options for exterior window treatments, there is truly something for everyone!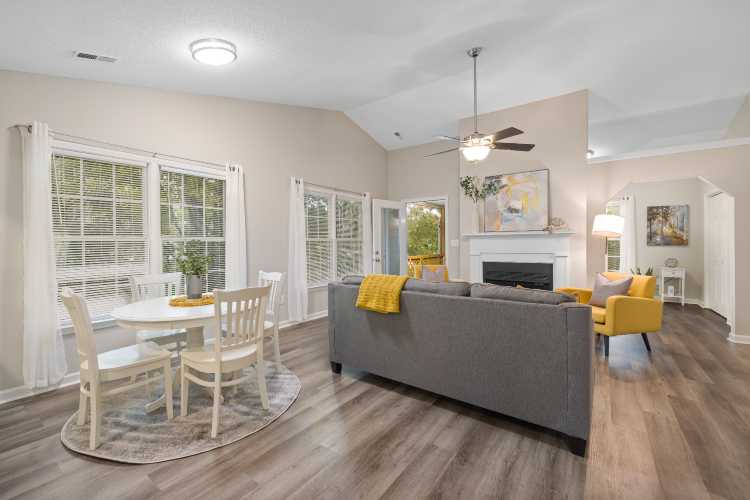 Colorado Springs Blinds for Your Needs!
When it comes to finding your perfect window treatments, Colorado Springs Custom Blinds & Shutters has you covered! Whether you desire something new and modern or something classic and timeless – the variety of blinds and shades that they offer is sure to have exactly what you're looking for. You can choose from an array of materials and colors, each matched with thoughtful customization options like manual lifts or motorized power rises.
The experienced staff at Colorado Springs Custom Blinds & Shutters can help guide your decision to ensure your decorating goals are met and your expectations exceeded. In no time, you will be enjoying the abundance of benefits that new window treatments bring, such as energy efficiency, improved privacy, and sunny room management.
Going away, need window security?
Planning an extended holiday, getting ready to go on that trip of a lifetime but worried about your home
security while you are away? It is so simple to keep your home secure when you use roller shutters. They are easy to operate and will keep your property safe against any possible break-ins and bad weather.
Roller shutter are made from aluminium so they are strong and durable, lasting for many years with little maintenance. Roller shutters come in many colours to compliment your homes colour scheme.
Where to Buy Outdoor Blinds in Colorado?
Colorado offers a variety of options when it comes to finding quality outdoor blinds. Whether seeking the perfect sunscreen shade blind to keep those pesky rays out or looking to add a bit of privacy with some black-out roller shades, many local businesses provide quality outdoor blinds in Colorado. Metro Denver is home to several specialty stores offering custom fit and tailored outdoor blinds that perfectly match any style or requirement.
Alternatively, one can look towards the beautiful mountain towns for an array of family-owned shops specializing in outdoor comfort solutions like Colorado Springs Custom Blinds & Shutters. No matter the needs, Colorado is home to great places for purchasing outdoor blinds at prices that match almost any budget.
How to Keep Outdoor Blinds From Blowing in the Wind?
Keeping outdoor blinds safe from strong winds can be a challenge. However, there are several measures you can take to protect them. Firstly, you should always measure your window and buy the appropriately sized blinds, making sure they are wide enough to cover the edges of the frame. This will help reduce any potential openings that would allow wind to force its way through. You can also use heavy-duty screws to keep your blinds firmly in place.
Additionally, some brands offer additional components such as suction cups that increase stability and minimise movement caused by wind gusts. Finally, for added protection against harsh weather conditions, try adding a protective spray coating that has been specifically designed for outdoor window treatments — this will extend their life and ensure optimal performance year round.
Remote Control Operating Systems for Colorado Springs Patio Blinds
Patio blinds have evolved over recent years to become a stylish must have accessory to extend the use of your patio area.
The weather has suddenly changed and the wind is now blowing into your patio where the children are playing; reach for your remote control and drop your patio blinds into place. The afternoon activities go on uninterrupted. That's how easy outdoor living can be when you choose a remote control operating system with your outdoor blinds. This ensures smooth and easy control on your blinds to use where and when you need them.
When choosing remote control operating system for patio blinds there are a few things to remember:
1.Position
The exact location of the patio where the blinds to be placed.
2.Access
Can you easily access the area where your outdoor blinds are located?
If the answer is no, then a remote control option will be perfect for you.
If you can, then a remote control will make your life easy.
3.Budget
Of course, this is a critical factor. You can always go for the most convenient and cool new remote control operating system if you have a good budget. A remote control system will cost more at first, but it will save you years of trouble and allow you to use your outdoor blinds whenever you want.
We also provide manual blinds with a crank handle. If you are a homeowner who prefers simplicity, remote control operated blinds will provide you with simple and quick control of the blinds with the click of a button. It's ideal for seniors, children, or if your hand strength isn't what it used to be, or simply because it makes life easier.
Are Motorized Blinds Too Expensive?
Motorized blinds are becoming increasingly popular for those who desire convenience and efficiency in their homes, but some people express concerns about the potential high costs. The cost of motorized blinds varies based on several factors, such as type of material, size, and level of automation. Wholesale prices can start around $500 per window, while purchasing more advanced features may raise expenses up to a few thousand per window.
On the other hand, homeowners often overlook the energy stipends and tax credits available when investing in energy-efficient products like motorized blinds. With thoughtful research into local contracts and mechanical options optimized for budgeting purposes, you can find a solution that suits both your aesthetic needs and financial capabilities without sacrificing quality.
F.A.Q.s
Do exterior blinds stop rain?
Installing exterior blinds is the perfect way to protect the interior of your home from downpours and other harsh weather conditions – but do they actually work? The answer is yes – exterior blinds are designed to provide strata-level protection against rain. Not only will these blinds stop rain water entering into the property, but they can also deflect strong gusts of wind too.
As an added benefit, exterior blinds also offer a layer of insulation, which can make a significant difference in keeping your home warm during the winter months. When investing in outdoor curtains or external shutters, it is always best to look for products that are made from high-quality materials and come with warranty protection, so you know you're getting top quality coverage.
What are blinds outdoor called?
When it comes to outdoor window treatments, it can be difficult to know what to call them. Fortunately, blinds that are made for outdoor use have an easy answer – they are called outdoor blinds! These versatile window treatments create a barrier between the indoor and outdoor environment, providing extra protection from sun exposure, wind damage and even insects.
Outdoor blinds come in multiple types; typically either roller or retractable models with variations including sunglasses, translucent and block-out fabrics that are designed to handle the harsh conditions of being installed outdoors. Whichever type you choose, they create an excellent way to manage sunlight and climate while still allowing visibility outside. They also come in a range of colors, textures and designs so you can find something that suits your home's level of style.
What outdoor blinds are best?
Finding the right outdoor blinds for your living space can be a daunting task. When selecting an option, be sure to consider things like the weather in your region, ease of use for opening and closing them, scene maintenance required and installation costs. You may choose from vertical or roller blinds which can protect against extreme sunlight and provide enhanced privacy. Bamboo and timber options are also available if you're looking for something more aesthetically pleasing. If you have an unusually shaped window or need superior insulation, insulated systems like internal awnings are often a good choice.
Don't forget to double check product warranties as well before making a purchase. With some research done beforehand and knowledge of your unique home requirements, you should find it easy to choose outdoor blinds that fit with your lifestyle needs.