The holiday season will be upon us faster than you can say "jingle all the way".
Instead of waiting until it's time to decorate the tree, why not start your holiday preparations with custom window treatments before the mad seasonal rush?
Discover new decorative fabrics and you'll soon be ready to deck the halls with these simple yet festive window decoration ideas that are perfect for the holidays.
3 Decorating Ideas for Your Windows This Holiday Season
There's just something about this time of year that makes us want to smile! The smell of pine and cinnamon, being together with the family, and the creative decorating ideas people come up with.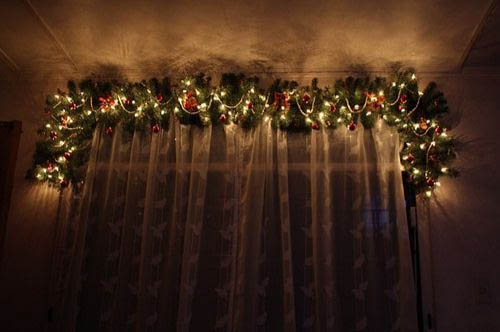 With these window decorating ideas, there's no doubt you will be the house on the block everyone is envious of. Here are some creative decorating ideas for your windows this holiday season.
1. Row of Baubles
Selecting energy efficient window drapes in warm holiday reds and pine greens, or silvery blues and navy, captures the essence of the holiday season while also remaining functional year-round.
The simple, yet sleek look really brings decorative elegance into any home.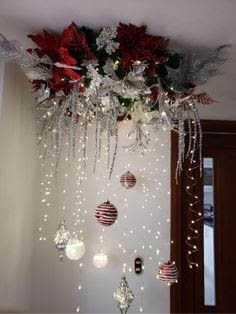 Play up on the holiday theme by dangling holiday baubles from your window with ribbon for a classy, simple decoration. Even match the shades and tones of your ornaments to the color of your drapery fabric for a chic look.
2. Hanging Wreaths
For an exterior holiday window display, use drapes to hang pine wreaths up in your windows.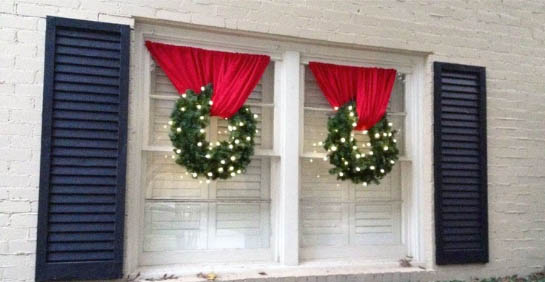 Simply twist curtains or a large swathe of fabric in a bright, merry red or silvery blue across the window curtain rod, stringing the fabric through the wreath to hold it in place.
For an even more cheerful look, add a battery powered strand of lights wrapped around the wreaths to give them an extra twinkle that will catch every eye that walks by.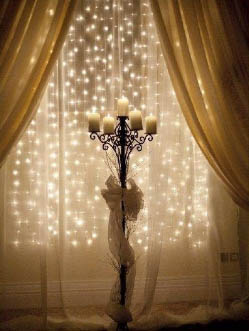 3. Lighting Behind Sheer Curtains
Use sheer fabric curtains and holiday lights to create a magical glow that will warm your home for the holiday season.
Take strands of twinkling lights and gently wind around a curtain rod, allowing them to hang behind drapes and sheer curtains.
New drapes, shades, and window treatments take your home's interior from good to great, showing off your unique sense of style when friends and family arrive.
Warm up your windows to usher in the holiday spirit!
Let's Find Decorating Ideas for Your Windows this Holiday Season
Make the time for home improvement now to free yourself up later to truly enjoy the holidays, without the mad dash.
We've got the window treatment installation times to work around you and your schedule. Give us a call today to schedule a free consultation!
Let us help select the best window covering options for your space with a free design consultation.