Smart blinds and shades offer a great way to make your home more secure, convenient, and energy-efficient. Some of the best smart blinds and shades on the market come with a variety of highly advanced features. You can find motorized shades that can be controlled remotely via Wi-Fi or Bluetooth, allowing you to control them from anywhere in the world. Some available options even come with automated light settings that adjust themselves during the day to save energy.
You'll also find top-of-the-line smart blinds and shades that let you set timers, simulations, voice controls and even integration with an existing home automation system. With these features and more, it is easy to create a connected environment in your home. With so many advanced options available today, it's easier than ever before to make your smart home complete.
Our List of Best Smart Window Blinds and Shades for Colorado Springs
1. Home automation roller shades
Home automation roller shades are the perfect combination of convenience and energy efficiency. With an app on your smartphone, you can easily control the brightness and darkness of your home while also making sure you keep heating and cooling costs down. Not only that, but these roller shades are extremely compatible.
They support integration with multiple platforms, including Google Home and Amazon Alexa, as well as hundreds of different models of smartphones. Thanks to this compatibility, you don't ever have to worry about not being able to get the most out of your home automation roller shades.
2. Smart wood blinds
Smart wood blinds bring a modern touch to window treatments and offer the timeless look of wood with the convenience of motorized operation. They are compatible with popular home automation systems such as Google Home, Amazon Alexa, IFTTT and Logitech hubs, allowing you to open and close your blinds via voice control. Smart wood blinds also allow you to schedule times for your windows to open and close, providing privacy when needed and natural light when desired.
With smart wood blinds you can conserve energy, lower your electric bill, minimize glare and reduce outside noise- making them an incredibly efficient investment for any homeowner.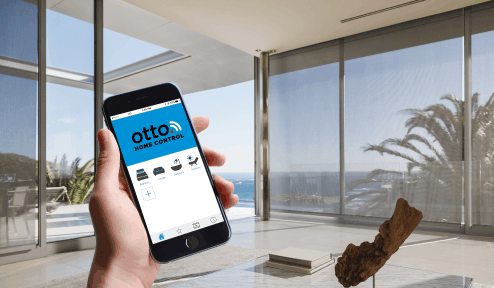 3. Voice-controlled smart blinds
Voice-controlled smart blinds are a great way to modernize the home. Not only are they efficient, allowing you to control them without having to get up off the couch, but they are also incredibly compatible. They can connect to a variety of voice assistants such as Google Home or Alexa, and they can even be linked up with your existing security system or smartphone.
By doing so, you have the power to manually control your blinds from anywhere in the world or even set parameters so that they respond automatically to particular voice commands or household events. Smart blinds are making it easier than ever before to stay connected with your home and ensure you always have just the right amount of light coming through.
4. Best budget smart blinds
Smart blinds offer a convenient way to control your window treatments without you having to be in the same room. When shopping for budget smart blinds, it's important to make sure they are compatible with the operating system of your device so that you can properly control them. If you're looking for something compatible with most home devices, infrared or RF remote control-based systems are typically your best choice.
Blinds connected through Bluetooth or Wi-Fi are great too and often come with added features, but they may require an additional hub depending on your setup. Ultimately, finding the right budget smart blinds requires research and consideration of the compatibility options available. With the right device compatibility, you'll be sure to benefit from effortless operation and effortless access.
5. Best customizable smart blinds
This blinds are one of the most advanced automation products available, and with good reason. Not only do they provide much-needed convenience in controlling light levels, but with the newest models on the market, it's possible to take your customization options to an entirely new level. By pairing your new blinds with a compatible home automation system, you can get access to temperature and LED lighting control straight from your smartphone or device app.
This is perfect for those who want to easily adjust their space in order to create the perfect environment at any time. With customizable smart blinds and a compatible home automation system, you can take your environment control to a whole new level!
6. Best blackout smart blinds
Smart blackout blinds are the perfect way to create a dark and cozy space even in the most intense sunlight. They're a great addition to any home, especially if you like a good night sleep. When looking for the best blackout blinds, be sure to pay attention to their compatibility. Most models will work with most automated systems if they're rated as compatible so that they can be managed via remote, phone, or tablet.
However, it's important to ensure your new blinds are compatible with your existing system as not all systems have the same connections. As long as you take the time to buy blinds that fit with what you already have, your new purchase should help bring comfort and convenience to your home for years to come.
Which Are the Right Smart Shades and Blinds for your Colorado Springs Home?
If you're looking for smart shades and blinds for your Colorado Springs home, it can be hard to know which ones to choose. Fortunately, with the right research and a few considerations, you can find the perfect window coverings for your home. Before you start shopping, decide what features are most important to you: Do you need privacy, sun control, energy efficiency, or something else?
Then take time to consider the materials available — would faux wood or real wood be better? Explore the various types of motorization and automation options on the market so that you can find a solution that fits both your budget and lifestyle. With these decisions made first, selecting the right smart shades and blinds for your Colorado Springs home becomes much easier.
How Did We Choose These Smart Blinds and Shades?
At Colorado Springs Custom Blinds & Shades, we understand that selecting the perfect window treatment can be a daunting task. We have taken great care to select the products that offer the best quality, design options, and features. Our assortment of motorized blinds and shades provide convenience, functionality and effortless control with options to include voice activation, physical remote controls or smartphone applications.
The high-end fabrics provide top notch insulation capabilities while still offering a stunning array of colors and textures perfect for every décor. With an unbeatable selection at amazing prices, we believe Smart Blinds and Shades has something for everyone!
Compatibility
When choosing the right smart blinds and shades for your home, compatibility is key. We have carefully curated a selection of products to ensure they are able to operate with a variety of popular technologies, including Amazon Alexa and Google Home. Our smart blinds and shades are easy to install and will fit most windows in homes of all sizes.
Additionally, we thoroughly tested each product to ensure it operates properly, is reliable and won't be obsolete in a few months. Ultimately, when selecting the perfect smart blind or shade for you or your family, you can be confident that the ones on our list meet our stringent criteria – making them an ideal choice for any homeowner.
Quality
Making sure we provide top quality window treatments with the best technology, whether it be automatically adjustable shades or energy efficient blinds that help keep your home cooler in the summer and warmer in the winter, was paramount when selecting our collection of smart blinds and shades. After extensive research, we chose only products that provided superior aesthetics and performance.
Our selection includes a wide range of customizable options with state-of-the-art features that allow you to adjust shade settings via voice control, app remote, or preset schedules. Our staff is standing by to help you make an informed decision on which type of smart window treatment fits best into your lifestyle.
FAQs
Are smart blinds worth it?
Smart blinds are an excellent way to add convenience, comfort, and privacy to your home. They can be programmed to open or close according to your schedule, providing natural lighting during the day without compromising your privacy at night. With features like motion sensors, they can be tailored to maximize energy efficiency by closing when no one is in the room. Smart blinds don't just make life easier – they can also help control damage from direct sunlight on furniture and carpets, making them well worth the initial investment.
Can you turn regular blinds into smart blinds?
Smart blinds may seem like a luxury upgrade, but with just a few steps you can turn your existing blinds into so much more than they are now. All you need is the right adapter and some minor re-work on the blinds themselves. Connecting them to your chosen home automation system will allow you to control the climate in your home and make sure you don't forget to close the blinds when leaving for work.
Even if you don't have any special knowledge in this area, you can find plenty of helpful guides online that will show you how to get started with turning your regular blinds into intelligent ones. In no time, they'll be able to do much more than block out light — they can also be key parts of your smart home security setup.
How are smart blinds powered?
Smart blinds are an incredibly convenient way to bring automatic light control to any home. These types of devices can be powered a few different ways, depending on their design and manufacturer. The most common power source for smart blinds is batteries such as AA or AAA because these typically have the longest life and the strongest connection in this type of environment. However, depending on the size of your windows and amount of use, you might need to switch them out periodically.
Other options include wired power sources, which can be easier than using batteries but come with additional installation costs; solar powered units; or even low-powered Wi-Fi connections. With any option, you'll want to choose one that meets your overall budget and lifestyle needs so you get the best user experience with your smart blinds.
Are all motorized blinds or shades smart?
Not all motorized blinds and shades are considered 'smart'. In fact, there is a wide selection of traditional motorized window treatments now available in the market. These offer the same convenience and ease-of-use as their smart counterparts do, but do not include any kind of smart home integration or programming capabilities, allowing you to control your window coverings from anywhere.
Smart motorized blinds and shades will typically add one more layer of automation and advanced features that allows for many opportunities for added convenience and comfort. However, the traditional motorized products still provide great benefits even without the smart features. Both types of products allow you to enjoy effortless control over your environment so that you can adjust your light and privacy levels with ease.